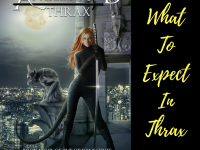 THRAX is the new book 4 in the Angelbound Origins series and it's coming your way on September 26th! There are going to be a lot of cool things in the book, but here are five that I believe are freaking awesome.
***SPOILER ALERT*** If you haven't read ACCA, don't read this.
Or read it, but know that you've been warned!
Awesome Thing One. The baby, baby!
Myla got pregnant at the end of the new book 3, ACCA (I told you there would be spoilers!) In THRAX, she has her baby. Do I make pregnancy easy on her? No way. And the birth? It's going to be EPIC.
Awesome Thing Two. Lincoln, Lincoln and Evil Lincoln
I love the honest and supportive relationship between Myla and Lincoln. So throwing an evil double into the mix will only highlight the amazingness that is their relationship (see description below). Plus, Myla doesn't take any crap from evil Lincoln. It's awesome.
Awesome Thing Three. Earth.
What Myla knows about Earth, she's learned from old television re-runs from the 1970's and 80's. Sending her into modern society is going to be a blast.
Awesome Things Four. Cissy and Zeke.
And does Myla go to earth alone? No way. She has Cissy there to help (by request) and Zeke (because he's just that much of a pain in the ass.) Ah, the scenes I have planned!
Awesome Thing Five: MYSTERY CHARACTER!!!
A new and awesome MYSTERY CHARACTER showed up while I was writing. This is someone you've known before but will meet in a whole new way. Can't wait!
THRAX launches on September 26th. There are order links live now if you click here.
Book Description
Myla Lewis has married Prince Lincoln, and now they're expecting! All the after-realms rejoice. Myla should be happy too, but she has a serious problem. The day after their honeymoon ended, Myla's real husband disappeared.
The man who's sharing her bed is an imposter.
Myla tries explaining about "Evil Lincoln," but no one will listen. The reason? People think that Myla's supernatural pregnancy is making her cray cray. Mostly because that's what Evil Lincoln is telling everyone, and that man's a great liar. What a creep.
There's no way Myla will take this lying down, though. She's going to rescue her man, and she has a pretty good idea where he's being held. With her best friend, Cissy, along to help, Myla sneaks off to Earth. All she has to do is blend in with the humans, avoid Evil Lincoln, and find her real man before the baby arrives. How hard can it be?