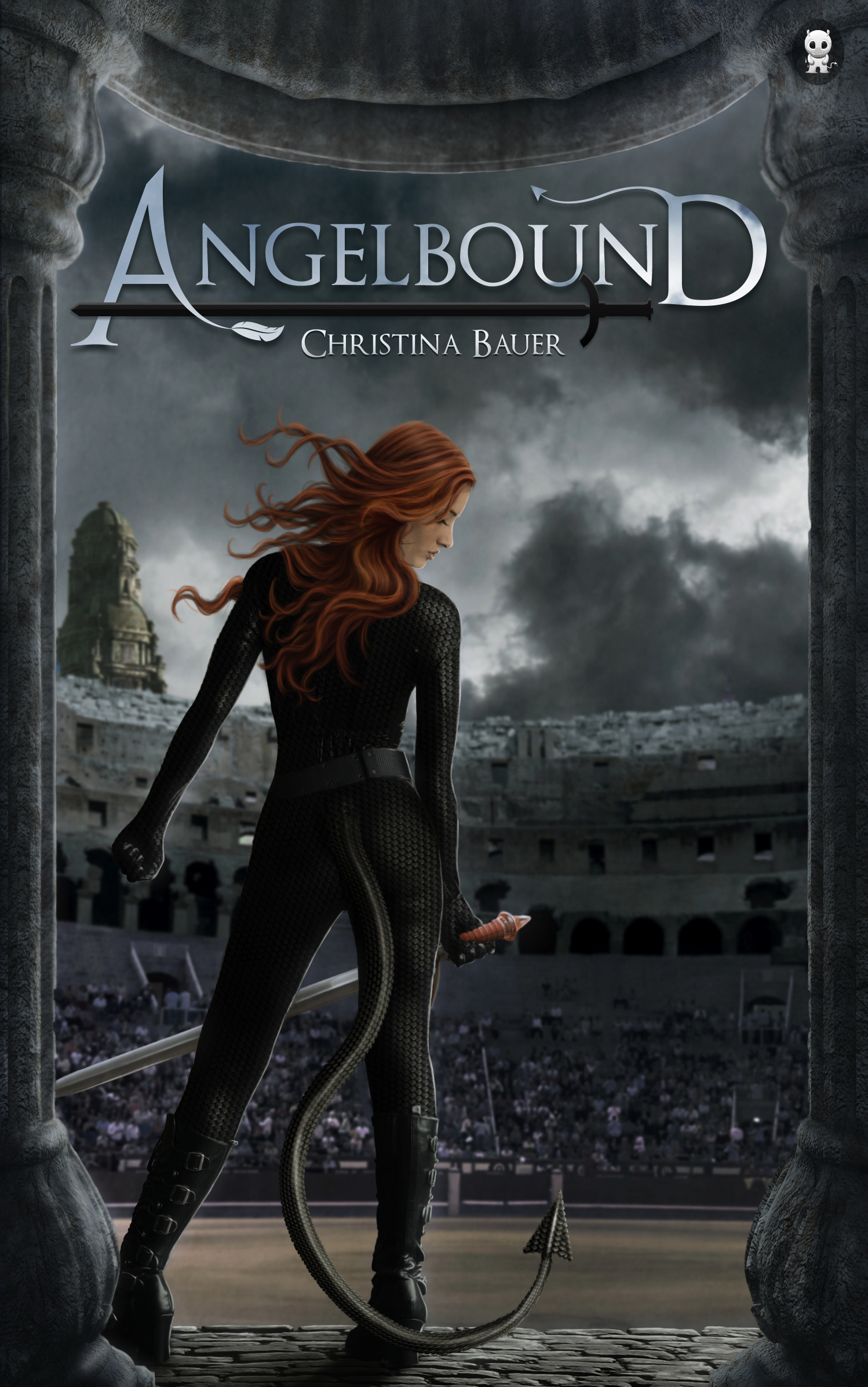 Chapter Three

(Read Chapter One here) (Read Chapter Two here)

The entire ride home, Cissy fiddles with Betsy's radio and grills me about every millisecond of my interaction with Zeke. It's amazing how many details she thinks are important. 'Did he look directly into your eyes when he asked that question?' 'Were his arms crossed over his chest like this?' And, of course, there's the ever-popular 'Did he ask you about me?' When I run out of answers, I start making stuff up. It's easier that way.

Cissy's eyes flare with a bit of red. "Did he give you his smoldering look?" She's created an elaborate filing system for Zeke's goo-goo eyes. Blech. This boy-crazy crap makes me a little nuts. Not only because it's dumb, repetitive, and a total waste of time, but also because part of me wishes I'd felt that way. Maybe once.

"Smoldering look." I smack my lips. "What do you mean?"

Her eyes blaze red. "You know exactly what I mean. He gives you that look all the time. Zeke so likes you and you could care less. It's not fair."

I grip the steering wheel tighter and brainstorm ways to change the subject. There are two Cissys. One is my sweet friend with a big heart who can't help but take care of oddballs like me. The other's an obsessive nut job who goes demon-eyed with envy over whatever's the object of her desire. Like Zeke. "Put the brakes on your inner demon, Cissy girl. Do you want to miss this chance?"

"What chance?" Cissy slumps into the seat, kicking her foot onto the dashboard. "You'll be at the party too. Let's be honest. He won't notice I exist."

"Hey, now." I can't stand to see Cissy so down on herself. "This is like…like…"

Cissy frowns. "Like what?"

"Well, it's like fighting a Cellula demon. Do you let its projectiles wrap around you until it squeezes you to death? NO!" I pound the steering wheel with my fist for emphasis. "You reach inside the membrane and pull out its nucleus!"

The edge of Cissy's mouth quirks upwards; her eyes return to their regular tawny brown. "I'm not exactly sure what you just said, but I think it was something like 'don't give up?'"

"Yeah." I whack the steering wheel again; I'm on a roll. "Who lives in the one house in Purgatory that can get any kind of dress, make-up, or hair goop in the five realms? YOU. If Zeke's what you want, sitting in the car and moping isn't going to get him for you. Get your Barbie on and knock his socks off."

Cissy sits up, her mouth rounding into a full grin. "You know what? You're absolutely right."

"Damn straight, I'm right." I pull the car into the driveway and kill the ignition. Betsy's engine kicks with a loud thump. "Now, let's chow down on some Demon bars."

Cissy pumps her fist in the air. "Huzzah!"

I park the car, walk through the front door, and update Mom that Cissy will be here for the rest of the week, talking non-stop about Zeke's party on Friday.

Mom perks up immediately. "A party in the Ryder mansion?" She opens different kitchen cabinets, pulling out ingredients for chocolate chip cookies. Whoa, that's unexpectedly awesome.

"Yup." Cissy twirls one golden lock of hair around her finger. "I don't know what I'll wear."

Mom hauls the mixer out from its hiding place above the fridge. "I have an old contact at Versace. I'll write the name down for your parents. They're great at whipping up something special on short notice."

I slide into my favorite seat at our kitchen table (the one with the perfectly-sized back-hole for my tail) and watch Mom putter around the kitchen, a rare smile on her amber face. Since when does she know anyone at Versace?

"Thanks so much, Momma Lewis." Cissy draws circles on the tabletop with her finger. "Want me to get something for Myla, too?" She looks expectantly from me to my mother.

"Nonsense!" Mom juts out her chin. "I attended my share of diplomatic events back in the day; I saved all my dresses. I have the perfect one for you, Myla!"

My face stretches into a sly grin. "All this talk about diplomatic events must remind you of someone." As in my father. I shoot her a look that says 'this is me, not giving up.'

Mom gathers up my long auburn hair, piling it at different angles atop my head. "We're not talking about that, Myla." She lightly pinches my cheeks to turn them blush-red. "I know just what we'll do with your hair and make-up too."

I pause, biting my lower lip. Versace, diplomats, parties at the Ryder mansion…Do I push for the millionth time for information about my father?

Cissy sighs. "If you're starting one of those 'who's my dad' fights, I'm going home."

Mom keeps fussing with my hair. "I'm not fighting."

I drum my fingers on the tabletop. "Okay, you don't want to talk about Dad. Maybe you can talk about your diplomatic work? What were the events you attended at the Ryder mansion?"

Mom hums a nonsense tune, twisting my hair in different angles. "I never answered these questions before and I won't start now."

I let out an exasperated gasp. "Come on, Mom! This is so unfair. Can't you tell me one little thing?"

Cissy thunks her forehead onto the tabletop. "No way! This sounds like a 'who's my Dad' fight plus a 'what did you do before the war, Mom' battle. Can I please save us all some time?" She sits upright, making her two hands talk to each other like puppets.

Cissy's first hand 'speaks.' "Mom, I really want to know who Dad is." Cissy gives me a very whiny voice. We'll have a chat later about that.

Her second hands 'replies.' "No." Her mom voice is totally grouchy and right on the money.

'My' hand: "What did you do before the war?"

'Mom's' hand: "I can't tell you."

"Not one eensy beensy bit?"

"No."

"But I really, really want to know." Cissy's puppet-Myla jumps up and down.

"No, no, no, no, no. Now, go to your room and ask your friend to go home."

Cissy stands up, taking a bow. "Thank you, thank you! Show's over." She plunks back into her seat. "Now, can we talk about the party?"

I set my hands over my face. "No." She's not charming me off the subject this time.

Cissy gently moves my hand until I peep at her between my fingers. "That's not my Myla." She shoots me a sweet grin.

I try to pout, but I slowly smile instead. Once again, Cissy knows exactly what to say to get everything back on track. No doubt our school will be overrun with moths in a matter of weeks, too. I drop my hands. "Fine, let's talk about the party."

Mom grins as well. "Absolutely. I was saying I could do your hair and make-up."

"I can do my own hair and make-up, Mom. But if you can find a dress for me, that would be awesome."

"And shoes too," adds Cissy.

"Of course!" Mom sashays from the room; I hear the pit-pat of footsteps in our attic crawlspace. The rest of the afternoon, Mom pores through old boxes while humming a tuneless song. Meanwhile, Cissy and I actively avoid homework by watching the Brady Bunch marathon on the Human Channel.

All in all, a good day.

***

A bony finger pokes my bare toe. I peep out from under my comforter, seeing Walker at the foot of my bed.

"You are called to serve."

I glance at my alarm clock. "It's 5 AM, Walker." And tonight is Zeke's party. "This makes it twice in one week."

Walker shrugs, rubbing his sideburns with his bony hand. From the other side of our ranch house, I hear Mom nervously clunking around the kitchen.

I roll over and stare at Walker out of my right eye. I know there's no way out of this (not to mention that there isn't anything else I'd rather do with my morning), but that doesn't stop me from giving him a hard time. "Couldn't find anyone else, eh?"

A smile tugs at his mouth. "No."

"In that case, I guess I could go."

Walker steps toward the door. "Don't worry, there's another fighter that I could–"

I jump in front of him, blocking any exit from my room. "Don't you dare!"

Walker smiles. He really is way too handsome for ghoul. "So, you will fight?"

I punch him in the upper arm. "You know it, slim." I speed through getting dressed, stuffing my face with cereal, and passing my morning interrogation with the Maternal Grand Inquisitor.

Walker steeples his hands under his chin. "Time to go, Myla."

"Finally!" I clear my throat. "I mean, let's go." I'm totally pumped to have two fights in one week, but I don't want Mom to have an aneurism. I give her a quick peck on the cheek. "See you later."

She grips my shoulders. "Be safe, Myla-la. You're all I have in the world." She sniffles. "If I lost you…"

"No worries. I'll be super incredibly safe. Bye now." I grab Walker's hand and almost run through the portal. It doesn't matter how many times I do this, it always makes me sick to my stomach. When I step out onto the Arena floor, my head feels a little loopy too.

Fighting the fog in my brain, I inspect the grounds around me. Beside me stands Walker, Sharkie, XP-22, and good old Sheila, the Limus demon. As I struggle to focus, my fuzzy mind misses the procession of demons and angels into the stands. By the time my head clears, Sharkie's ready to announce the match.

"Demons and angels!" The emcee's deep voice echoes through the massive Arena. "I bring you another spectacle of efficiency in ghoul administration of Purgatory."

At this point, a roar would typically erupt from the Arena's demon population. Instead, there's perfect silence. I scan the stadium; Armageddon sits unmoving on his ebony throne. His red eyes glow brightly; his thin mouth is set into a frown.

Sharkie eyes the stands carefully, then gestures to the dark balcony. "I would ask the greatest general in history to say a few words before the match. Armageddon, if you please!"

The demon lord swings his leg over the arm of his black throne, his scarlet eyes scanning the crowd with pure malice. "I have nothing to say to you."

Okay, that's weird. Normally, these matches start with a mutual love-fest between Armageddon and the ghoul hierarchy. Things seem oddly icy today. I rub my neck and yawn. Or maybe my brain hasn't woken up yet.

Verus rises to her feet. "I'd like to say a few words."

Sharkie stares at Armageddon for a long moment, his jaw hanging open. Verus never speaks at these events. Sharkie bows to her. "Uh, yes. Please." He snaps back into emcee mode. "Ghouls, demons, and angels! You all know Verus as the Oracle, the only angel with the gift for seeing the future. What would you like to share with us today? A prediction for the match?"

Verus takes to her feet, her great wings extending. "We angels can't help but notice that the Scala is getting on in years." Her gaze rounds on Armageddon, a sly look twinkling in her eyes. "It is time the Scala Heir was announced and brought to these matches."

I gasp. There hasn't been a Scala Heir for ages. I've heard the stories, of course: at any point in time, there's one Scala and one Scala Heir. Of all the creatures across the five realms, only these two mortals have the blood of a human, demon, and angel. My tail arcs over my shoulder, ready to strike. Somehow, Verus bringing up the Scala Heir sets my warrior instinct on alert. Bad mojo.

Around the top lip of the stadium, the Oligarchy turn their heads in unison toward Verus. They speak in one voice, the sound a mix of low rumble and hiss. "We have no need of a Scala Heir."

Verus slowly wags her head from side to side. "The Scala is powerful, but he is mortal. That's why there's always been a Scala and a Scala Heir. We haven't seen an Heir since Armageddon's War." She folds her arms into her long white sleeves. "The angels appreciate these matches as a demonstration of efficiency, but how effective is your administration without an Heir?"

Armageddon snaps his long black fingers. A red-skinned demon with horns and a pitchfork steps up to the greater demon's side. "Where's the Scala Heir? The thrax we caught at the border to Hell?"

The red demon swallows. "Dead, my lord."

Armageddon's eyes flare red. "Why?"

"You thought him insolent, my lord."

The King of Hell scratches his cheek. "Ah yes, I remember now." His mouth curls into a sickening grin. "He died very well indeed."

I shiver. 'Very well indeed' means he came up with something especially creative and painful. Oy.

Armageddon gestures to Verus. "There's been no Scala Heir for nearly twenty years. Why question it now?"

Verus bows her dark head. "We deem the time ripe."

"Whatever are you up to?" He drums his long fingers on the armrest of his throne. "Is there a prophecy involved?"

"To an Oracle, there's always a prophecy." Her eyes flare bright blue. "Answer my question. The Scala Heir."

"We'll find the poor sod." He leans forward, setting his bony elbows on his knees. His eyes narrow as his stare locks with Verus's steady gaze. The air becomes charged with strange, oppressive energy. My chest tightens.

Armageddon's eyes flare bright red. "It's about time I made another Scala Heir suffer."

The word 'suffer' echoes strangely about my head. In my mind's eye, I see a man with mismatched eyes and jet-black hair. He's a burly powerhouse of muscle, covered in blood and screaming. I don't know why, but I feel certain he's the last Scala Heir. My knees turn watery beneath me. A heavy patch of clouds roll past the always-gray sky, darkening the Arena.

Somehow, Walker is at my side, his hand set about my shoulder. His arm is lean and roped with muscle, stronger than I would have expected. "What's wrong Myla?"

The man's screaming face fills my mind. "You don't see it?"

"No, Myla. You're catching energy from Verus and Armageddon. Sometimes, it causes hallucinations." He scans the skies. "Just a few seconds more."

Verus inspects the crowd with ice-blue eyes. "Let the games begin." She wears a satisfied smile as she slowly resettles into her white stone throne.

"So be it." Sharkie thumps his staff onto the ground. The sky lightens, my legs become solid beneath me again. What the Hell is going on?

Walker releases his hold on my shoulder. "Alright now?"

"Yeah, thanks." I suck in a few deep breaths. "What was all that? I felt like I'd pass out."

"Battle of wills between Verus and Armageddon. I felt it too, but not to the point of seeing any visions." Walker wraps his hand in mine. His skin is warm and comforting. "You need to prepare yourself to fight, Myla. They're about to summon the soul. Can you do that for me?"

I give his hand a squeeze and crack my neck from side to side. "Hells, yeah." With each passing second, more strength pours back through me. "Bring it on."

Walker grins. "That's my girl."

Sharkie thumps his scythe again. "We summon the soul for battle." A ghostly woman materializes beside him. Wiry and thin, she has slightly hunched shoulders and frizzy gray hair down to her waist. A constellation of scars covers her swollen face.

The human woman quickly raises one arm, pointing to Sheila. "I choose her."

Sharkie pauses. "So, you choose trial by combat?"

"Yes," the woman says quickly. "And I choose the green demon."

The emcee gestures toward me, Walker and the other ghoul. "You three must depart." Turning to the woman, Sharkie adds: "And you must prepare for battle." The human nods, bows slightly to the Limus demon, and crumples onto her knees. From the way her shoulders shake, I'm pretty sure she's crying.

I follow Walker into one of the Arena's archways, anxiety curling its way across my shoulders. That scene back there is just plain wrong in so many ways. Once inside the shadows, I stare at the ground, only vaguely aware of Sharkie reading the rules of combat.

I turn to Walker. "This has got to be my weirdest day in the Arena. First, there's all that stuff about the Scala Heir and a weird power struggle between Verus and Armageddon. Second, I'm yanked out of bed to fight some old human who's sitting there crying? I only go up against the worst of the worst."

"There's nothing I can say." Walker's gaze meets mine, his black eyes glistening in the pale light. "You're precious to me, Myla." He raises his hand and presses it to my cheek. His skin is warmer than I expected.

Realization slams into me. "You know what this is all about, don't you?" I wrap my fingers around his hand. "Tell me."

"I've watched Verus for years. I know how she thinks."

"And how's that?"

Walker frowns. I know Mom bullied him into telling me zero about himself. But he does more with his life than ferry me back and forth to matches. He must know something about what really happened today.

He drops his hand. "I've said too much already." Turning on his heel, he starts to walk away.

I block his path. "Tell me what you were going to say. I promise I won't press you for more. I know you made some kind of promise to my mother." I stare into his liquid black eyes and hope with everything in me: please, tell me something.

Relief washes over Walker's face. "I can say this. I believe you impressed Verus with your defeat of the Choker. She's taken an interest in you now. She specifically requested you come to the Arena today, but I don't think it was to fight."

"Why then?"

"To hear about their search for the Scala Heir, perhaps. But definitely to see this." He gestures to the open archway to the Arena floor. The human still crouches on her knees, sobbing quietly. Sheila closes the distance between them, green saliva dripping from her gaping mouth.

Waves of red-hot anger rip through my body. Every fiber of my being says that woman should not be killed and sent to Hell. I just know it. "That's wrong, Walker." My eyes flash demon red. "Why isn't that woman going to Heaven?"

"Some souls believe they deserve Hell, even if a trial would send them to Heaven." He shakes his head from side to side. "Under the old regime, quasis would never have allowed this human to choose trial by combat."

And she'd be going to Heaven right now. A hollow feeling creeps into my bones. She's purposefully losing the battle so her soul can be consumed in Hell.

On instinct, my back arches. My toes dig deep into the dirt, preparing to run. I scope out the distance from my spot to the woman's. I could reach her in seconds. She doesn't belong in Hell. I won't let it happen.

I'm halfway out the archway when Walker yanks me back. "What are you doing, Myla?"

I shake him off. "It doesn't seem right. Maybe I can grab her–"

"And get torn apart by a thousand demons." He wags his head from side to side. "That would help no one."

My voice catches in my throat. "Isn't there anything I can do?"

"Not at this time, I'm afraid." He scans the Arena, his gaze resting on Verus. "But soon, maybe. I believe our angel allies have a plan to give Purgatory back to your people."

My heart kicks into overdrive. Purgatory free? Armageddon and his cronies gone? Count me in. "What will they want me to do?" I slap my palm onto my forehead. "Of course, that's more than obvious. Fight."

"Most likely." He sighs. "But with angels, you never know for certain until it's too late."

Angelbound is available for order in both ebook and printed format.