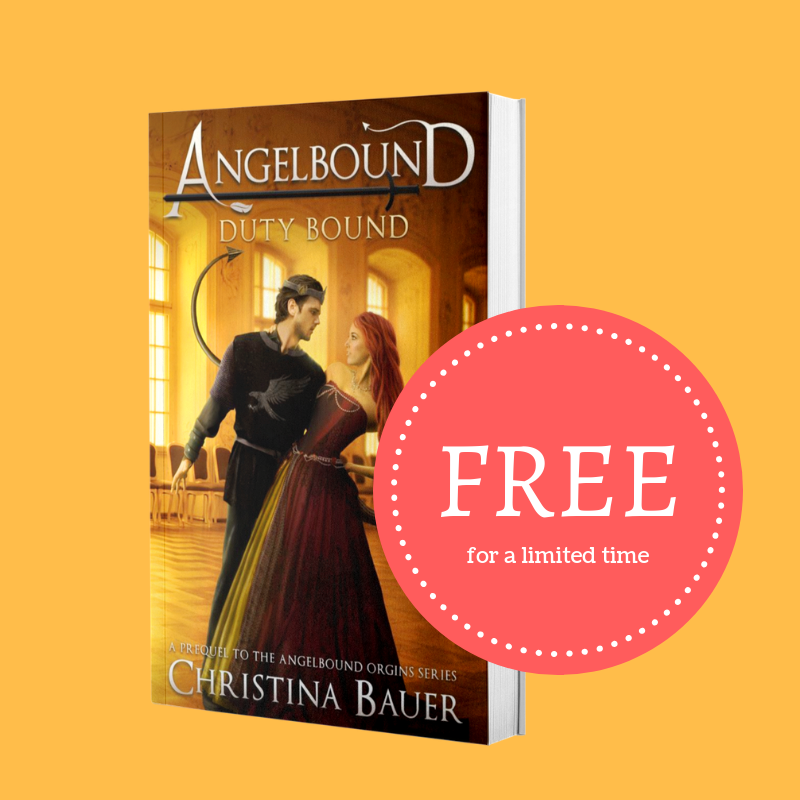 To celebrate the launch of

LINCOLN

on February 26th, DUTY BOUND is now FREE for a limited time at…


Amazon

, 

Barnes & Noble

, 

Kobo

, iBooks & 

Googleplay

 !!!
Duty Bound
Prequel Book .5, Angelbound Origins
By Christina Bauer
Print ISBN
eBook ISBN 
Don't miss this prequel novella to the best-selling Angelbound, told from Prince Lincoln's point of view!
As the High Prince of the demon-fighting thrax, Lincoln knows he must marry for political gain. Not that he minds. For all of his eighteen years, Lincoln's been bound to his duty. Fighting demons is his life, and he's never given romance a second thought. Instead, the High Prince lives for the days when he leaves his hidden realm to fight demons on Earth.
Then, everything changes.
Lincoln and his nobles become forced to visit Purgatory, the home of quasi-demons (who are mostly human with a bit of demonic DNA). Here Lincoln spies Myla Lewis, a lady warrior who enflames his heart, ignites his interest, and inspires his respect. Trouble is, Myla's also a quasi. By thrax law, Lincoln must kill anything demonic—not date them. For the first time in his life, Lincoln wonders if he'll follow his duty…or heed the demands of his heart.
Publisher's Note: Christina Bauer is a non-linear thinker who came up with ARMAGEDDON and then went back and wrote some earlier books. This is why you'll see ARMAGEDDON (Book 7) and the Offspring series available before THE BRUTAL TIME (Book 6). We've told her to stop this practice, but she keeps giving us lewd hand gestures in response. Apologies in advance for any inconvenience. 
Buy Now: Amazon / Barnes & Noble / Kobo / iBooks / Googleplay