It's tricky to write about someone else's sacred text as a myth. As Joseph Campbell said, 'myths are other people's religion' (my emphasis, not Campbell's). That said, I'd like to share three mind-opening things about the Ramayana, a Hindu epic myth that's a sacred text to millions.
SUMMARY: the Ramayana (loosely translated as 'Rama's Journey') is the story of King Rama's odyssey to rescue his wife Sita after she's abducted by Ravana. The book is really-really-really long and that's a crazy-short synopsis, but there you go.
As an author and myth junkie (I've written before about Isis, Athena and Cinderella), this story blew my mind for three reasons:
1. How the tale begins
In the West, most fables end with 'they were married and lived happily ever after.' Not the case here. The Ramayana basically begins with 'Rama and Sita were married, and so started their adventure.' When I first read this, I was stunned. It never occurred to me that marriage would be the beginning of an epic myth. Western fables focus on courting and falling in love…so what are we missing out on here? I'm still working on the answer to that question, BTW.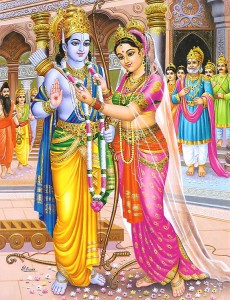 2. The super-cute romance between Rama and Sita
As a Westerner, I thought we cornered the market on love stories. In the Ramayana, there are charming passages with Rama and Sita hanging out in a garden, all googly for each other. Check out the picture below and then say it with me…awwwwwwwww!
3. A baddie who was…too good?
We already covered how Ravana abducted Sita. Now, depending on the version of the Ramayana you read, Ravana may have had a legit grudge against Rama and/or reason to grab Sita. That said, what struck me in reading the Ramayana is that Ravana's real problem was the following: he was a good guy who went to extremes. He had the most lovely city, most learned scholars, and most devout prayers. To me, it seemed like he wanted the most beautiful Sita to complete his 'perfection set.' And come on, we all know someone like this, right?
Westerners often celebrate extremists as non-conformists and true individuals. But extremists are also the group who—whatever other labels you put on them—are the most likely to cause some seriously huge trouble. Personally, I think that's why Ravana has so many heads; even in that, he's extreme: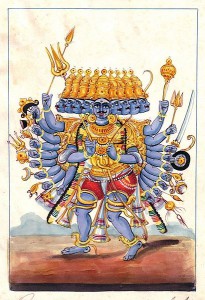 All in all, I found the Ramayana to be strangely familiar (in terms of romance) as well as surprisingly different (in where the tale begins and what the story defines as evil.) How would our Western lives be different if our myths followed the Ramayana's example, even a little bit?
Originally, I read this book in my twenties. In writing this post today, it struck me how clearly I remembered these 3 key differences so many years later. I think that's part of why I became inspired to write my own book, Angelbound: a good tale blows your mind and changes your world.