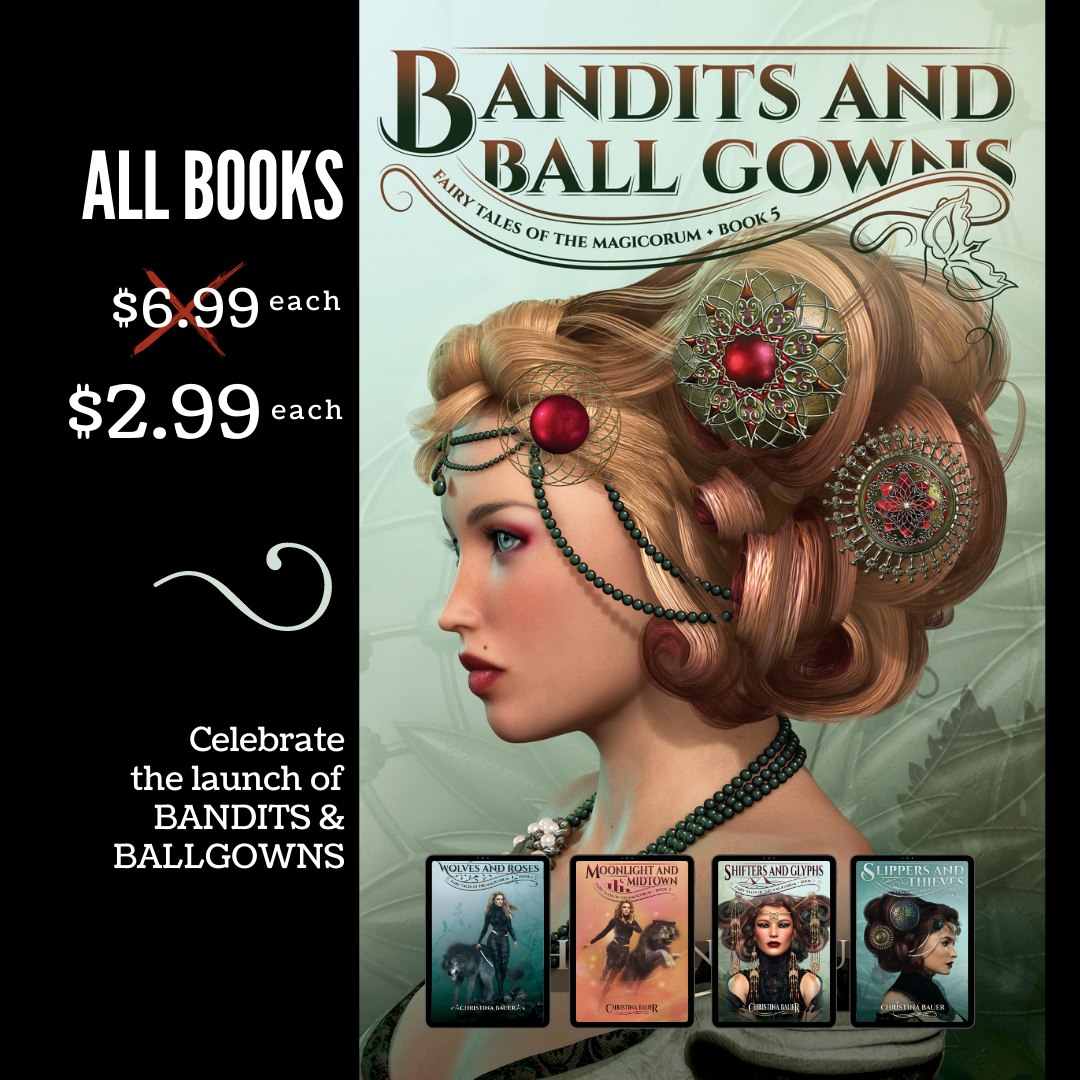 New Cinderella Book Ahoy!
Want to get ready for Fairy Tales of the Magicorum book 5, BANDITS AND BALL GOWNS? Great news! Books 1-4 in the series are only $2.99 for a limited time!
NEW BOOK – BANDITS AND BALL GOWNS (Book 5)
The conclusion to the story of Elle and Alec… as well as the adventure of Jacoby and Agatha! Only $6.99!
Buy Now: Amazon / Apple Books / Googleplay / Kobo / Nook
Only $2.99 Each Across The Series!
WOLVES AND ROSES (Book 1)
Bryar Rose is supposed to live by a fairy tale life template: sleeping beauty. So why does she dream of ancient Egypt and a handsome young werewolf?
Buy Now: Amazon / Barnes & Noble / Kobo / Apple Books / GooglePlay
MOONLIGHT AND MIDTOWN (Book 2)
Bryar Rose and her bestie Elle (never call her Cinderella) go shopping in hidden Manhattan stores run by faeries. Mayhem ensues.
Buy Now: Amazon / Barnes & Noble / Kobo / Apple Books / GooglePlay
SHIFTERS AND GLYPHS (Book 3)
Bryar Rose discovers the secret behind her connection to the pyramids of ancient Egypt … and to the heart of a certain werewolf.
Buy Now: Amazon / Barnes & Noble / Kobo / Apple Books / Googleplay
SLIPPERS AND THIEVES (Book 4)
The story of Elle (never call her Cinderella) and Alec Le Charme, heir to Le Charme jewelry dynasty.
Buy Now: Amazon / Barnes & Noble / Apple Books / Kobo / GooglePlay