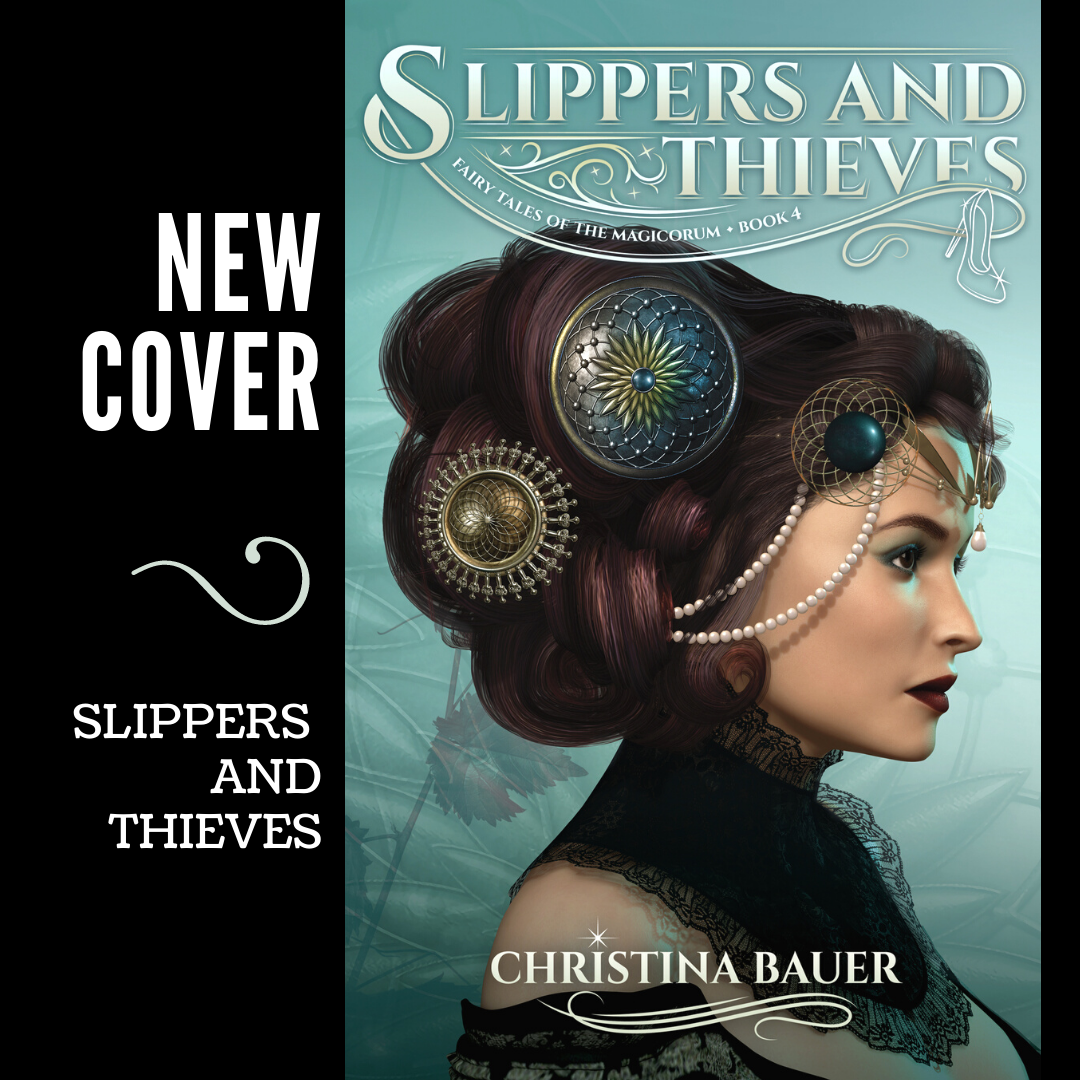 Dear Readers,
I'm redoing the covers for my Fairy Tales of the Magicorum series, including Book 4, SLIPPERS AND THIEVES. Why update stuff? The Magicorum covers are all over the place. Some are funny, others look dramatic. A few are drawn, most are photos. It's annoying the fuck out of me.
In this case, the original of this cover has an image of Elle that I loved, but it was an outlier in terms of being funny while the rest were serious. So changing the look is bitter-sweet.
That said, I'm not just a mindless rage machine over inconsistent covers. I'm also SUPER EXCITED for the next book in the Magicorum series, Book 5, BANDITS AND BALL GOWNS! This journey began when I redesigned that cover and grew from there.
So without further ado, here's the new cover for SLIPPERS ADN THIEVES.  You can see the new cover below. Be sure to scroll down to check out the before-and-after. Fun!
-CB
Here's the before and after. Although it was tough to take Elle out of the cover, I think it's more consistent with the overall look of the series now…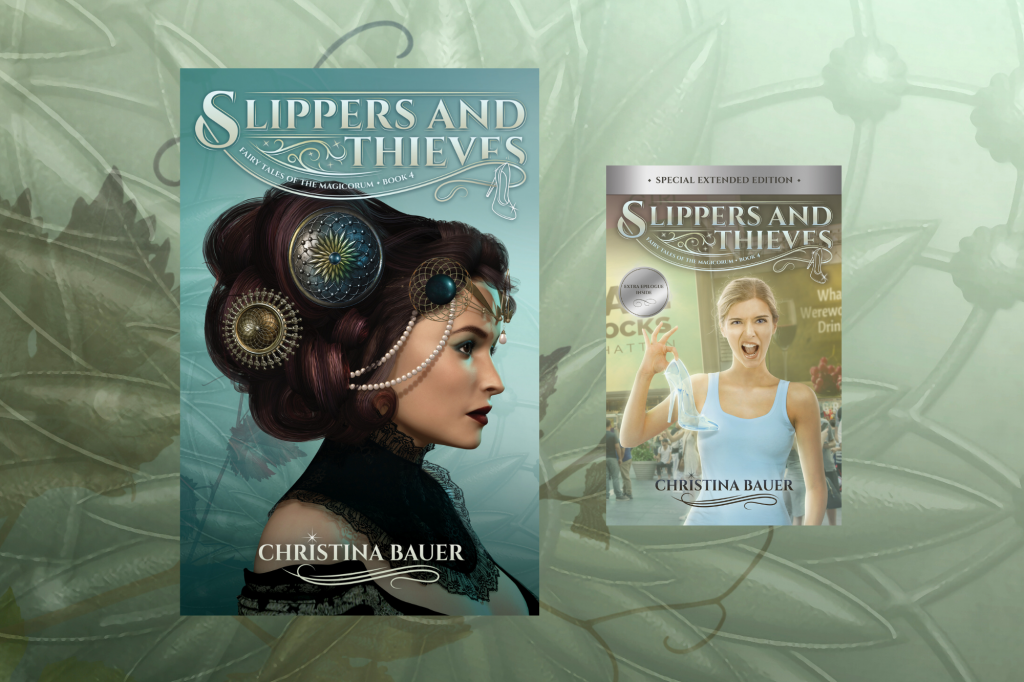 Here's how it looks in the first three books of the series!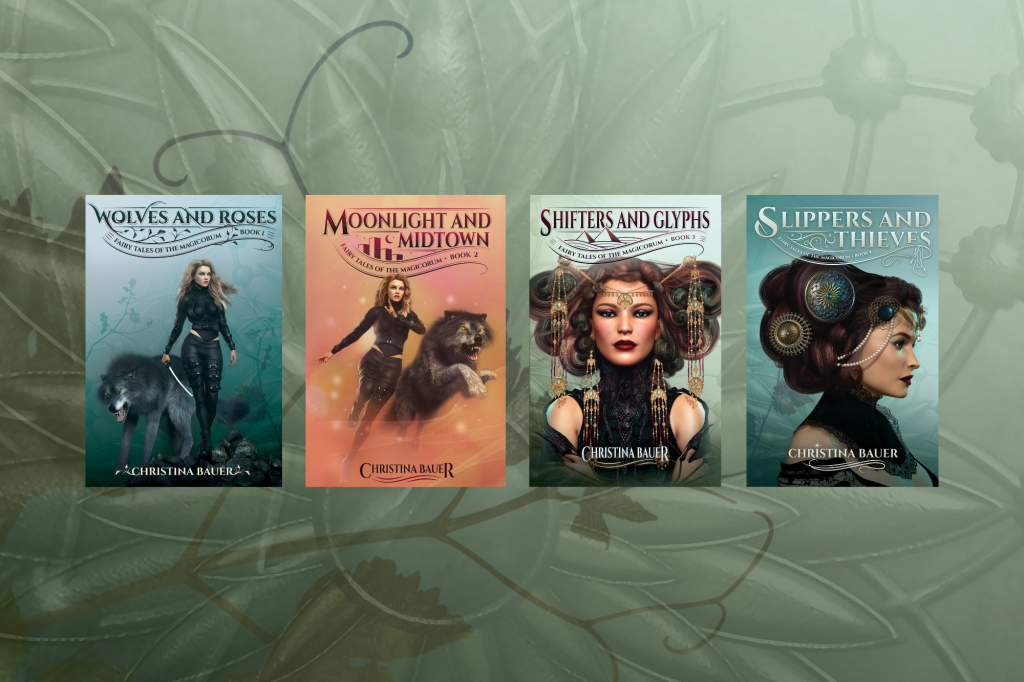 And check out the full print wrap cover. Pretty!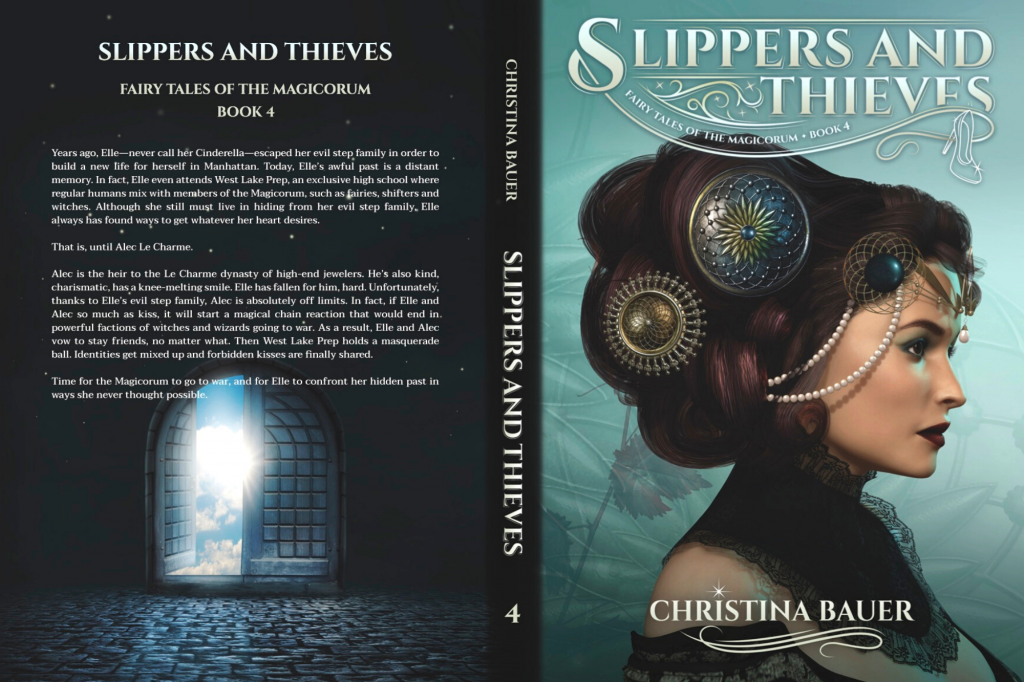 ABOUT SLIPPERS AND THIEVES
SEE IT ON:  Amazon / Barnes & Noble / Apple Books / Kobo / GooglePlay 
"The best retelling of Cinderella!" – Brandi, Amazon
"Above and beyond all other books in this series!" – Linniland
"This Cinderella version is by far the best. I was at the edge of my seat!" – Booprican
"Best of the series and oh, so romantic!" – CS, Amazon
Years ago, Elle—never call her Cinderella—escaped her evil step family in order to build a new life for herself in Manhattan. Today, Elle's awful past is a distant memory. In fact, Elle even attends West Lake Prep, an exclusive high school where regular humans mix with members of the Magicorum, such as fairies, shifters and witches. Although she still must live in hiding from her evil step family, Elle always has found ways to get whatever her heart desires.
That is, until Alec Le Charme.
Alec is the heir to the Le Charme dynasty of high-end jewelers. He's also kind, charismatic, has a knee-melting smile. Elle has fallen for him, hard. Unfortunately, thanks to Elle's evil step family, Alec is absolutely off limits. In fact, if Elle and Alec so much as kiss, it will start a magical chain reaction that would end in powerful factions of witches and wizards going to war. As a result, Elle and Alec vow to stay friends, no matter what. Then West Lake Prep holds a masquerade ball. Identities get mixed up and forbidden kisses are finally shared.
Time for the Magicorum to go to war, and for Elle to confront her hidden past in ways she never thought possible.