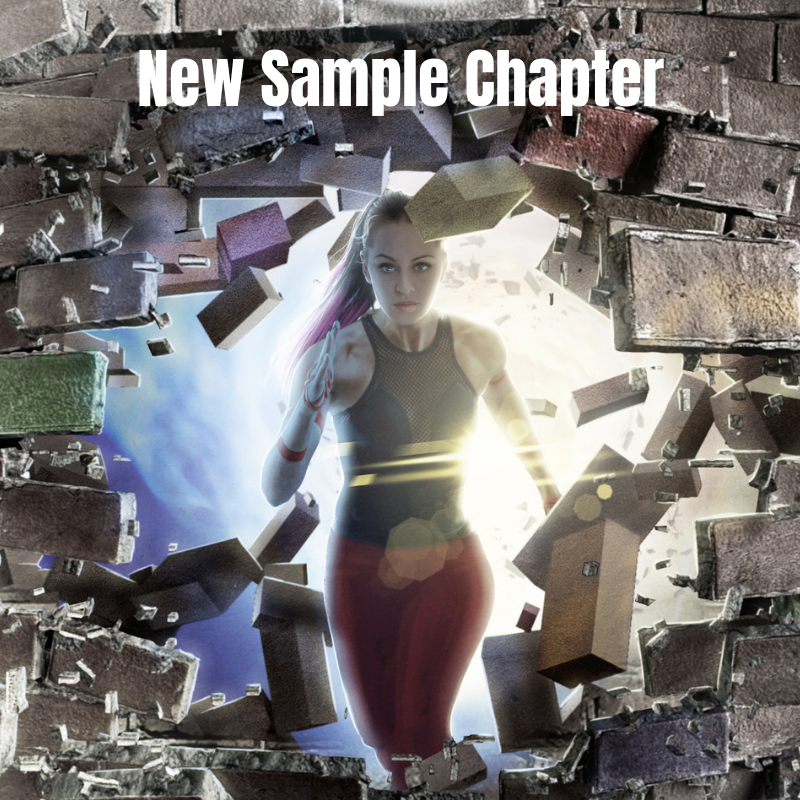 This month, I'm launching an extended version of SCYTHE (Prequel #1 in the Dimension Drift Series) both in print and ebook editions!
Now there's 30% more content, especially in terms of world building and romance. Huzzah! Take a look at the new chapter one below and let me know what you think…
# # #
BOOK 1 – SCYTHE
SCYTHE – Chapter One
Not long now.
Up ahead, a tiny concrete tower rises from the darkened hilltop. Guardhouse #83. I scan the gravel road before me. Everything is deserted, quiet, and perfect. Despite the chilly night air, a rush of excitement warms my limbs. Most days, I'm a teenage she-hermit who lives for my basement laboratory. But in this moment, I'm my best self: a science prodigy-for-hire whose inventions secure my family's safety. And if a little thievery is involved? Well, that just makes me a lot badass.
In other words, time to steal for Mom and science.
Marching to the guardhouse, I stop before the intake window. There's no need to announce myself; motion detectors will activate the auto-guard. Seconds later, a mechanical buzz sounds as florescent lights click on, revealing an animatronic woman sitting at a fake desk. Like most auto-guards, this one is less than perfect, what with her chipped plastic skin, frayed blue uniform, frizzed-out hair, and single functioning eye. Raising her head, she addresses me through the Plexiglas.
"You have reached guardhouse #83 for Reclamation Center Massachusetts-1," she says. "The manufacture of new goods is reserved for the military, so we sort, clean, and refurbish old items from landfills."
To kill time, I adjust the loose straps on my backpack. This auto-guard won't interact with me until her welcome spiel is over. Sadly, animatronic speeches at Reclamation Center Massachusetts-1—also called RCM1—always take a while.
With jerky movements, the auto-guard gestures to the monitor embedded in the outer concrete wall. Here comes the slide show. Images appear on the screen, showing endless rows of long metal buildings stretching off to the horizon. "Since our founding in 2107, RCM1 has processed more than three million objects across two thousand warehouses. It is now 11:43 pm. How may I be of service?"
That's my cue. All the blah-blah-blah is done.
"I need to check in for my shift," I say.
Which is a total lie.
In truth, I'm visiting RCM1 because I'm building a scientific tool called a magnetic enhancer for one of my customers. Why? To punch holes in time and space, you need massive amounts of magnetic energy. Once my enhancer's complete, that process will be a ton easier. At this point, all my invention needs are some dark matter brackets and that's it. Fortunately, when it comes to unusual supplies, RCM1 never fails.
"Initiating employee identification sequence," states the auto-guard.
With those words, a long steel tube extends from the concrete wall. I lean in so my eye almost touches the metal. Almost is the key word here. I don't even want to think about the quarter-inch of black goo that encircles the tube's end. Who knows where THAT came from? A burst of light follows; my retina is scanned.
"Identification complete," she announces. "You, Wisteria Roberts, are sixteen years old and a resident of Reformed New England. Five feet, five inches tall. Brown hair. Green eyes. You worked at RCM1 full-time between the ages of six and twelve."
All of that's true, except for my name. Wisteria Roberts is an alias; I'm really Meimi Archer. More fun facts about yours truly: I collect oddball alarm clocks, care for my mother, and have regular dreams where I gain superpowers and watch over a cute guy from another planet. I know, strange. I'm also a decent computer hacker. In fact, I broke into the RCM1 mainframe seven years ago. Since then, there've been five system upgrades. Yet all my back doors and secret subroutines have stayed 100% valid. Yay me.
The auto-guard tilts her head. "You worked here with your older sister, Regina Roberts. Is she checking in with you today?"
"No, Luci—I mean, Regina—isn't here. She's…" I stop myself before saying the word dead. "She's just not here," I finish quickly.
My heart sinks. My sister Luci moved to the Boston Dome ages ago. Once there, she became a casualty of the new plague. Four years have passed since Luci died. A weight of sorrow seeps into my bones. After so much time, I shouldn't deeply mourn my older sister's death. Even so, the pain stays as fresh and cutting as if it happened yesterday.
The auto-guard's one good eye flashes with orange light. It's a sign she's still processing my identity profile. "You, Wisteria Roberts, are not a current RCM1 employee, even on a part-time basis. Please step away from the guardhouse."
Now that I'm logged in, I have pre-coded passphrases for such occasions. "Launch super-awesome chick subroutine." As backdoor phrases go, it's not the best. But in my defense, I wrote this code when I was nine.
As the subroutine begins, the auto-guard gives me a somewhat creepy smile. "How's it hanging, girlfriend?"
I grin right back. That's what I'm talking out. Now I have full access to any system within RCM1.
"The usual," I reply. "I'm working on a science project for a grouchy customer." He's also a stone-cold killer, but I don't add that part in. "Got any dark matter brackets in stock?"
Once again, the auto-guard's eye flashes orange. "Dark matter brackets may be found in warehouse 942, row 63, bin 13. There are 37 in stock at cost of 100 credits each."
"Temporarily reduce that price to zero and get me four brackets."
The auto-guard's head ticks from side to side. "One moment."
For the record, I'd rather buy these parts officially. Unfortunately, that's not an option. My mother isn't mentally stable, so the government—what we call the Authority—wants to cleanse her. That's government-speak for an early death, either from a gun blast or by being fed to a genetically enhanced attack animal. Not on my watch. To keep Mom safe, she and I live far outside the government's tracking systems. That's crazy expensive. Projects like my magnetic enhancer help pay the bills. Trouble is, doing any scientific work without government approval is a crime, and RCM1 reports every official purchase to the Authority. All of which brings me back to the auto-guard, illegal hacks, magnetic enhancers, and thievery.
Mitigating factor: I do make anonymous donations to RCM1 in the value of whatever I take, so there's that.
"Price temporarily reduced for one transaction only," says the auto-guard. "Setting aside four brackets now." The automaton's head keeps clicking at odd angles while it performs this function. Somewhere over in warehouse 942, a spider bot—essentially a foot-tall mechanical minion—places my brackets onto a pick-up table by the front door.
After a few seconds, the auto-guard speaks again. "Four functional brackets are now on reserve."
"Display other items in 942." Might as well see what else I can grab.
The monitor scrolls through names of various scientific devices.
Atomic stabilizers? Already have too many.
Quantum chasers? Forget it. Quark trackers work so much better.
Refurbished monolith? That would be awesome, but it's also the size of a refrigerator. Not exactly backpack friendly. And I don't have forever to fart around here.
I'm about to tell the auto-guard to stop when I see it.
1982 era SW AC with DV action.
My pulse speeds with all kinds of happy. I collect specialty alarm clocks, and this is one I've stalked for ages. "Pause, please."
"Listing stopped."
"Does warehouse 942 actually have a circa 1982 Star Wars alarm clock with vocal Darth Vader action?"
"Correct. One such item in stock. Row eleven, bin 507. Ten credits."
I smile my face off. This is like finding a picture of Einstein in a tankini; I never thought it was possible. What a great day.
"Reduce price to zero," I command. "Then add to my order."
"Acknowledged. Do you require a transport platform to warehouse 942?"
"No, it's faster if I walk." Like everything else here, transport platforms at RCM1 are rickety at best. Plus, 942 isn't too far away.
On the outer wall, the computer monitor stops listing items. Instead, the screen fuzzes over with unreadable text.
I frown. That's strange.
Leaning in, I scan for details. The only legible word is alert. When I worked here, those mostly concerned new landfill shipments.
"Is something wrong with tonight's delivery?" I ask.
"The next shipment is right on schedule. Precisely at midnight, no fewer than 84 hovercraft will arrive to dump fresh landfill. Contents will then be cleaned, sorted, and any usable items refurbished or recycled as soon as possible. It is now 11:51 pm. Every worker has reported for duty at the unloading towers."
"So tonight's delivery is fine." I'm still stuck on that alert message.
"Fine as sunshine," replies the auto-guard. I loaded about a hundred sayings into this subroutine. What can I say? I was nine and bored.
I nibble on my thumbnail and think through this news. Hovercraft deliveries always take place at midnight. That's why it's my favorite time to steal: all the RCM1 workers are miles away from the warehouses. And while the human workers are busy, RCM1 security relies on drones called Tetras. Imagine a shoebox with four helicopter-style rotors slapped on top of it and that's a Tetra. Pretty useless. My dark outfit—including boots, jeans, and hoodie—will easily hide me from their video scanners.
Even so, a chill of unease moves up my back. Although everything seems fine, something nags me, like a wire isn't screwed down tightly enough.
Best to double-check.
I tap the computer monitor. "I'm still seeing an alert. What is that?"
"The Authority released a general warning regarding the Lacerator."
I lift my brows. "The Lacerator, as in their new genetically enhanced attack animal?" I've seen the newsfeed articles. The Lacerator is the latest addition to what the Authority calls its Horde, which are killer monsters that get rid of undesirables. Meanwhile, the threat of those same creatures keeps everyone else in line.
"Affirmative. That's the same Lacerator," replies the auto-guard.
This is such bad news. No one knows what the Lacerator looks like, mostly because victims don't live to share details. The bodies always have puncture holes and claw marks. Hence the name Lacerator. Nasty.
Only one thing to do next.
"Launch amazing subroutine for providing detailed info. Area of interest: Lacerator and RCM1."
Moments later, pictures of hacked-up bodies fill the outer monitor. I wince. Well, that's never leaving my head.
"Additional information located," states the auto-guard. "Over the past twelve days, the Lacerator has routinely escaped confinement. Each time, it visits RCM1. During the last invasion, worker casualties resulted."
My insides twist with anxiety. The Lacerator at RCM1? That's seriously not-good, and for three key reasons. First, those poor employees. Working here is bad enough without getting minced to death. Second, RCM1 isn't too far away from the abandoned factory where Mom and I live. Yikes. And third, the Lacerator hitting RCM1 means the Authority could get interested in my favorite spot for hard-to-get parts.
Which leads to my next question. "How does the Authority plan to deal with this, if at all?"
Let's be honest. This is western Massachusetts. Everyone who lives or works out here is considered undesirable. We don't get plumbing or electricity, let alone police to fight off killer monsters.
"The Authority wishes to study the Lacerator's habits," explains the auto-guard. "A scientific expedition has been dispatched to RCM1 to investigate."
I bob my head and think this through. One expedition. That's not too terrible.
"When are they due?" I ask.
"Since most attacks happen after midnight, the expedition arrives within the next two hours."
I take it back. That's totally horrible.
Tension knots up my limbs, but I force myself to stay calm. Two hours is more than enough time. Plus, what do I care about some scientific expedition? It's not like they can cause me trouble. What will they do? Beaker me to death?
"Who's in this expedition?"
"One scientist," replies the auto-guard.
My shoulders slump with relief. "That's great."
"And to protect the scientist, Mercenaries of Righteous Enforcement will also be present. You may know these warriors as the Merciless. Displaying supplemental video."
I stifle a groan. Everyone knows the Merciless.
Fresh video appears on the screen. Merciless warriors march down Newbury Street, their gash guns gleaming in the false sun of the Boston dome. Skull-like helmets top their black body armor, all of it fashioned to resemble charred bones. A sick taste fills my mouth. The Merciless are screened to be tall, handsome, and card-carrying sociopaths.
Merciless Captains also have an extra pal along: an attack beast trotting at their side. Most of these monsters are pony-sized mixtures of wolf, crocodile, and bat. The Horde.
At this point, things aren't looking good here. Even so, there still may be a chance to salvage this. I need more information.
"Where will the expedition go?" After all, RCM1 is huge. Chances are, the Merciless will end up miles away from warehouse 942.
"The expedition plans to inspect warehouses 127, 559, and 935."
My breath catches. I've hit every one of those warehouses for parts … and all within the last three months. Even worse, warehouse 935 is not too far from 942, my destination for this trip. And the Lacerator shows up after midnight, which is my favorite time to stop by.
The temperature around me seems to spike about twenty degrees. It's an effort to keep focused.
Stay calm, Meimi. Keep asking questions.
"What can you tell me about those warehouses? Are there any similarities tracked in the system?"
As a scientist, I'm not a superstitious person. Even so, I cross my fingers.
Please, don't let the similarity be me.
The auto-guard stares into empty space for what feels like a millennium. "Similarity detected," she states at last.
And then, nothing.
A long pause follows while the automaton blinks and that's it. I make a mental note to tweak the code in this subroutine. Asking so many questions is giving me a headache.
"And?" I prompt. "What's the similarity?"
"Recently, these warehouses were all visited by the same person, Regina Roberts."
Shock reverberates through my system. "Regina Roberts? Did you say Regina Roberts?"
"That is correct. Is there a malfunction in my voice output?"
"No, it's just that Luci Archer—I mean, Regina Roberts—is my sister. She worked here with me at RCM1, remember?" I don't add in the part about her dying. For some reason, saying it out loud makes the loss too real.
"Providing supplemental surveillance per subroutine. Here you go, honey."
Fresh video flashes onto the monitor before me, showing an aerial view from a Tetra drone. Although the scene takes place at night, I make out someone tall and slim with long white-blonde hair. Her orange cloak flaps behind her as she steps into a warehouse. The woman's face isn't visible, though.
Could that really be Luci?
For a long moment, I can only stare at the auto-guard. Luci is alive? No way that's correct. At the same time, part of me wants my sister back so badly, I could scream.
"Update coming in." The automaton's head ticks more quickly than ever before. "Merciless warriors will arrive at RCM1 in twenty minutes."
A knot of panic tightens my throat. Twenty minutes?
Okay, I'm enough of a scientist to accept facts here. This caper is toast. I should run for it. NOW. Problem is, my customer's a maniac, as in a seriously psychotic killer who murders anyone that misses a shipment. Even worse, my deadline for this magnetic enhancer is just hours away.
Sweet mother of science.
Mom isn't super-mobile. That said, maybe I could boost a transport for us to escape. But to where? My customer is none other than the Scythe, the most powerful crime lord around. He'll find us no matter what.
Yet he might not discover us right away …
Taking a half-step backward, I get ready to bolt. Then I stop. What am I doing? Screw the Scythe. No way am I pulling up roots; I still have twenty minutes left. Grabbing stuff from RCM1 warehouses is my specialty.
I lift my chin and steel my nerves. This is totally do-able. Refocusing on the auto-guard, I give another command. "Make sure my stuff is ready for immediate pick up."
"Acknowledged."
"Shut off the super-cool girl hacker subroutine." The auto-guard slumps forward as my passphrase erases all traces of this conversation. I glance at my watch. Midnight on the nose.
No time to lose.
Hoisting my backpack higher, I run toward warehouse 942.
Between the Lacerator, Merciless, and my killer customer, I have plenty to obsess about. Even so, I can only seem to focus on one thought.
My sister Luci may be alive.
And somehow, she and I are mixed up with the Lacerator.
Sweet mother of science indeed.
–end of sample–
You can either purchase or re-download (if you bought the ebook already) at Amazon, Barnes & Noble, Kobo, GooglePlay, and iBooks. After that, the adventure continues with UMBRA (prequel 2 due out in January) and ALIEN MINDS (Book 1 due out in April)