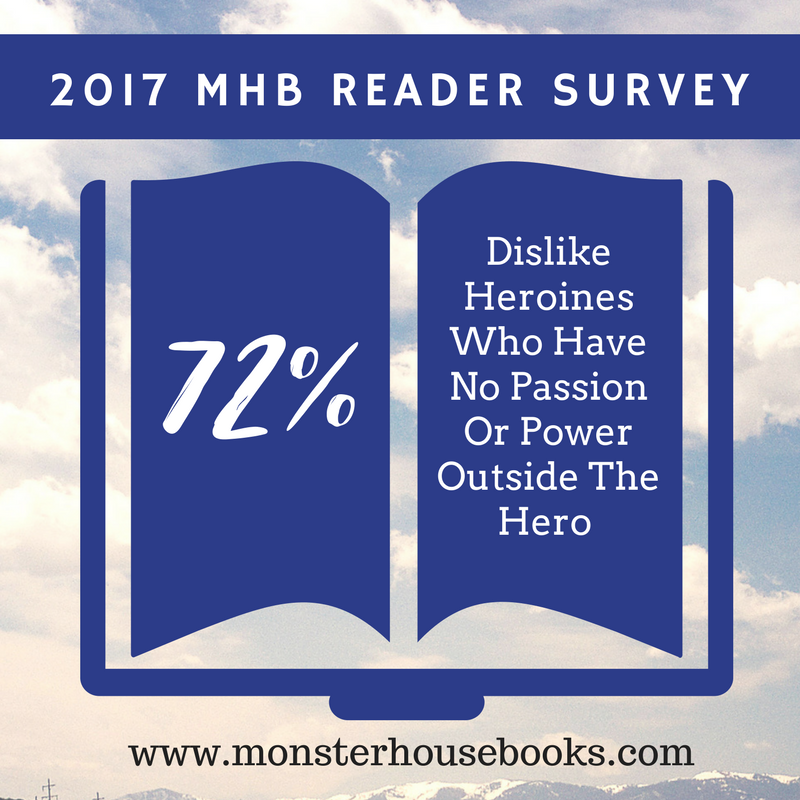 New Survey Shows 72% of Readers Don't Like Heroines With No Passion Or Power Outside The Hero
Monster House Books today announced the results of its first annual Reader Survey on Fierce Female Storylines, in which respondents listed the top five storylines that they love or loathe when it comes to fierce female heroines.
Newton, MA – July 11, 2017 – Monster House Books LLC (MHB) today announced the release of its first annual Reader Survey on Fierce Female Heroines. MHB specializes in stories about diverse warrior women and has sold more than 500,000 eBooks in its history. The MHB survey was distributed to readers via email, Facebook and Twitter and garnered 121 respondents.
The Reader Survey covered more than seventeen unique storylines which readers could rank on a scale of like to dislike. The following were listed as the most liked or disliked by MHB readers.
THE TOP 5 MOST DISLIKED STORYLINES FOR WOMEN WARRIORS
Heroine hides while hero fights – 79%
Heroine complains – 73%
Heroine has no clear power or passion outside hero – 72%
Heroine suffers from 'mean girls' – 48%
Heroine is a warrior with no romantic arc – 40%
THE TOP 5 MOST LIKED STORYLINES FOR WOMEN WARRIORS
Heroine and hero fight side-by-side – 94%
Heroine has a take-charge attitude – 91%
Heroine has her own passion or power – 88%
Heroine fights with a team – 88%
Heroine works in collaboration with other women – 86%
"Many readers commented about heroines having a passion or power outside the hero," says MHB Founder Christina Bauer. "Readers were very clear that they wanted their leading ladies to have something of her own, whether it's a special power that she welcomes into her life, or a deep love of home and family. At MHB, we've always had a requirement that all our heroines have their own passion or power, but I was surprised to discover how strongly readers felt about it, too."
"One thing that jumps out from this survey is the emphasis on teamwork in storytelling, which we also see in movies like Wonder Woman and The Force Awakens," says Kelly Peterson, Director, INscribe Digital, a division of Independent Publishers Group (IPG), the company who distributes MHB titles. "Often, people assume that having a warrior woman as your heroine want her to go it alone.  This trend in pop culture shows us that this type of story sells books and tickets. I love it!"
More Novels That Celebrate Warrior Women
This fall, Monster House Books is releasing even more titles about warrior women in its Angelbound, Beholder, and Circuit Fae lines of urban fantasy YA books. In October, MHB is also releasing Wolves & Roses, its first title with high-volume print distribution. In this story, fairy tale characters collaborate to save the magical world.
For more information about Monster House titles or this survey, please visit www.monsterhousebooks.com or contact Arely Zimmermann at azimmermann (at) monsterhousebooks.com. Infographics and twitter-ready images can be downloaded from http://monsterhousebooks.com/blog/2017survey
About Monster House Books LLC

Monster House Books LLC publishes kick-ass fiction for sci-fi, fantasy, urban fantasy, and paranormal romance readers. Like strong heroines, diverse voices and unique storylines? Welcome home.
About Independent Publishers Group
Established in 1971, IPG was the first organization specifically created for the purpose of marketing titles from independent presses to the book trade. In 2016, IPG purchased INscribe Digital, a leading edge publishing technology company, which is helping to position IPG as a best in class technology solution for publishers large and small.
Contact Information
Arely Zimmermann
AZimmermann@monsterhousebooks.com
Monster House Books LLC
# # #