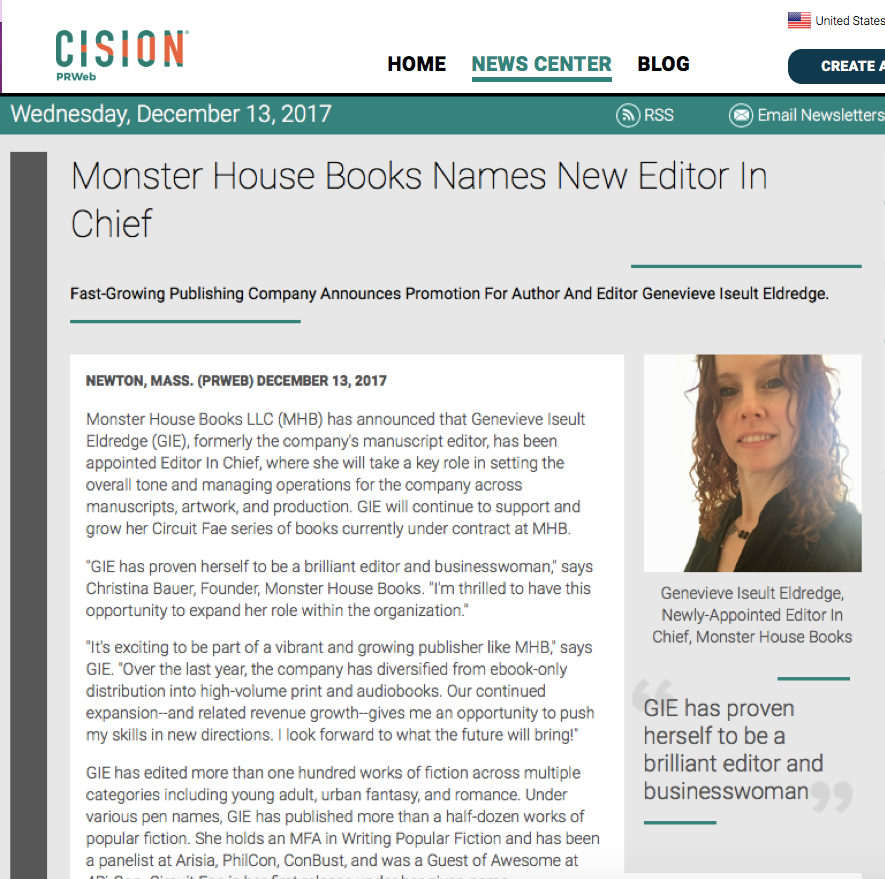 Monster House Books Names New Editor In Chief
Publishing company announces promotion for author and editor Genevieve Iseult Eldredge
NEWTON, Mass. – Dec 13, 2018 – Monster House Books LLC (MHB) has announced that Genevieve Iseult Eldredge (GIE), formerly the company's manuscript editor, has been appointed Editor In Chief, where she will take a key role in setting the overall tone and managing operations for the company across manuscripts, artwork and production. GIE will continue to support and grow her Circuit Fae series of books currently under contract at MHB.
"GIE has proven herself to be a brilliant editor and businesswoman," says Christina Bauer, Founder, Monster House Books. "I'm thrilled to have this opportunity to expand her role within the organization."
"It's exciting to be part of a vibrant and growing publisher like MHB," says GIE. "Over the last year, the company has diversified from ebook-only distribution into high-volume print and audiobooks. Our continued expansion–and related revenue growth–gives me an opportunity to push my skills in new directions. I look forward to what the future will bring!"
GIE has edited more than one hundred works of fiction across multiple categories including young adult, urban fantasy, and romance. Under various pen names, GIE has published more than a half-dozen works of popular fiction. She holds an MFA in Writing Popular Fiction and has been a panelist at Arisia, PhilCon, ConBust, and was a Guest of Awesome at 4Pi-Con. Circuit Fae is her first release under her given name.
For more information, visit www.MonsterHouseBooks.com.
About Monster House Books LLC
Monster House Books LLC publishes kick-ass fiction for young adults in the genres of sci-fi, fantasy, urban fantasy, and paranormal romance. Like strong heroines, diverse voices, and unique storylines? Welcome home.
For more information, visit www.MonsterHouseBooks.com.
###
Copyright © 2018 Monster House Books LLC. All Rights Reserved. All other brand names, product names, or trademarks belong to their respective holders.
Media Inquiries: info@monsterhousebooks.com