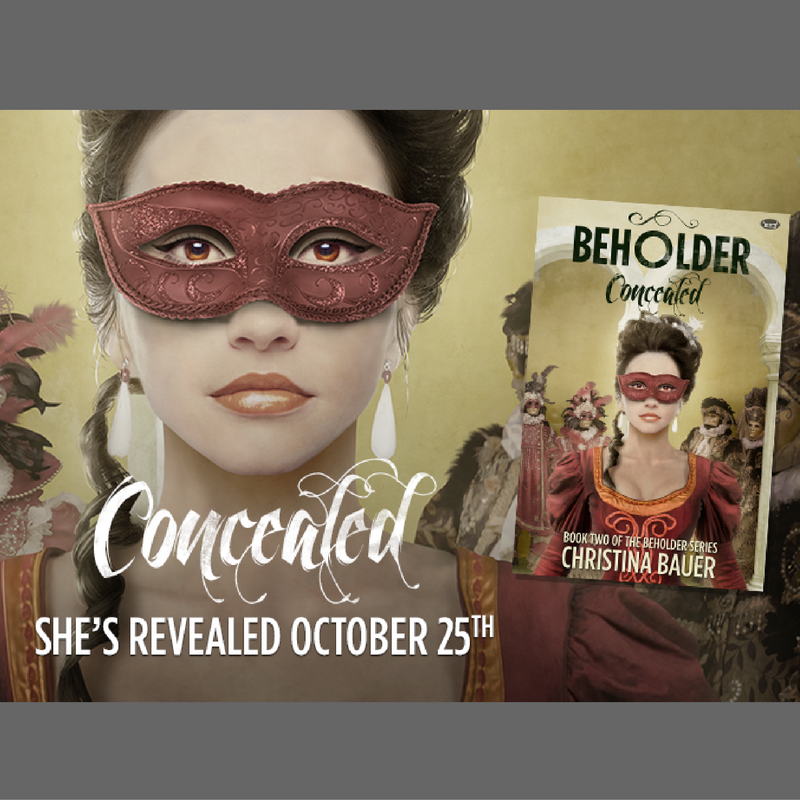 My book CONCEALED is live for pre-order on Amazon, B&N, iBooks, and Kobo… and to celebrate the 10/25 launch, here's a sample chapter!
Chapter One
With a sigh, I rode deeper into the old forest. Here was a scene fit for a fairy tale. My elegant horse. Woods in the summertime. And me, a girl with pale skin, dark hair, and a flowing white gown: the innocent young maiden.
What a lie.
In truth, I was one of the realm's most deadly Necromancers. Mages like me wielded powerful magick over spirit and bone. Most people were terrified of us and for good reason. Necromancers were known for summoning ghosts and reanimating the dead. Not that I dabbled in that kind of thing personally. Ghosts whined for ages before doing even the smallest task. And decaying bodies? When reanimated, they became just as petulant as any ghost, only they smelled something awful. Not worth the effort of casting, in my opinion. There were other spells that I preferred.
My horse let out a high-pitched whinny. My poor Smoke. She so wanted to gallop. As did I, for that matter. But my plan called for me to ride slowly while looking innocent. The reason? I sought out sensitive information from the brigands who hid in these woods. Of course, I could just lure them to me with a spell. However, that meant projecting magick over long distances. Not too clever. That kind of casting could easily be detected by my enemies and used to track me down. I needed to be careful.
No, the scum of the forest had to approach me of their own free will. And that could only happen if I looked harmless.
Please, let me look harmless.
A weight of worry settled on my shoulders. I needed information and badly. My Sister mages from the Midnight Cloister were still missing. The desire to find them constricted my heart, tight as a vise.
As did my need for Rowan, if I allowed myself to think about him.
Suddenly, the tree branches rustled with extra force. I tilted my head, every sense in my body going on alert. Was someone finally approaching?
Seconds passed. No one appeared. I tried to hide my disappointment and kept riding along at an inching pace. Clip-clop. Clip-clop. The monotony made me wish to pull my hair out.
Images flickered through my mind. I pictured the Necromancer girls that I'd met in the Midnight Cloister. My Sisters. They'd all looked so wide-eyed and innocent as the evil Vicomte led them off to his secret prison. And these were no ordinary dungeons either. The Vicomte had a mysterious device that siphoned off Necromancer power. I shivered at the thought. My Sisters would writhe in agony as their magick was removed. And once their powers were fully drained, my young friends would transform into withered husks of skin. Dead. The thought made my stomach churn.
Sadly, the treachery against my people didn't end with my Sisters. Over the past five years, thousands of Necromancers had been imprisoned and marked for death. It was the Tsar who began all the abductions. Three months ago, I put that villain into exile, trapping him on a random magickal plane. Afterward, I assumed that our worries were over. How foolish of me. The moment the Tsar was gone, one of his main followers, the Vicomte, took up the heinous plans against my people.
Since then, things have only become worse.
The Vicomte has expanded the Tsar's program of abduction and murder, killing far more Necromancers than the Tsar ever did. No one has found any bodies, though.
By the Sire, please let that mean some of my people are still alive.
I could only hope that when I found my lost Sisters, I would discover some trained Necromancers along with them. So few of us remained. My Cloister, the Zelle, was the last of its kind, and it now held less than a dozen expert Necromancers. All were over ninety and could no longer cast any serious spells.
Footsteps rustled in a nearby thicket. Someone's close. My heart thrummed in my rib cage. Only certain travelers stole through the shrubbery.
Thieves. How perfect.
A hulking brute of a man lurched out from the trees and grasped my horse's reins with his meaty fist. Any other lady would have screamed. I could have cheered for joy.
"Afternoon, my lovely. I'm Bartley." His voice had the deep rasp of someone who enjoyed far too much whiskey. Like the other thieves I'd met, Bartley wore a mishmash of whatever clothing he'd claimed from his latest kills. In this case, Bartley donned a gentleman's longcoat over ragged pants and a patched-up shirt. He rubbed his thick hand over his bald head, a movement that showed off his small black eyes.
A warm sense of satisfaction bloomed through my chest. Someone this evil looking was certain to have good information. "Hello. I'm Elea."
"Call me Bartley. Are you alone?"
"Yes. And you?"
Bartley didn't say a word. The barest rustling in the trees answered for him. More thieves waited nearby, not that I cared. At close range, I could use certain spells without attracting attention. And since I was a Grand Mistress Necromancer, I didn't have to bother with reanimating the dead or calling on ghosts. Satisfaction warmed my blood. With any luck, I would cast my favorite spell today.
Ah, the joy of conjuring skeletons from stone.
After all, rock contained the concentrated remains of what had once been part of a living thing. It was an advanced form of cadaver, if you will. A Grand Mistress Necromancer could reform that raw material into a new skeleton.
I really loved casting these.
My skeletal servants had no personalities unless you counted mindless obedience. They smelled only of chalk if they had a scent at all. Best of all, a good Necromancer could give her skeletons some flair. I often covered mine with glittering gemstones. My teachers had frowned on this, but I was a girl, and we girls needed sparkly things.
Bartley took a half step closer. "Hand over your gold, and we'll let you go easy." He stared at my chest. "Yes, easy."
I stifled the urge to roll my eyes. Thieves always stared at my breasts and threatened my virtue. It was getting rather tedious. "I'll gladly pay you for information. Will you answer my questions?"
This was a rule of mine. Always give the thieves an honest way out. Not that any of them had taken it.
"By the Lady of Creation, you're a feisty one." Bartley grinned, showing a mouth full of yellow teeth. "Now, you've got me curious. Go on. Ask your questions."
"I'm searching for a child." My voice cracked as I pictured six-year-old Ada. She was a tiny wisp with a huge smile and an invisible friend named Wulf. "The Vicomte Gaspard took her."
Bartley's eye twitched, which came as no surprise. With the Tsar was gone, the Vicomte was the most feared man in the realm. "Never heard nothing 'bout the Vicomte kidnapping Necromancers."
Of course, he hadn't.
"I didn't say she was a Necromancer." My voice dripped with venom. "You did." Bartley knew something about my people—I could tell that without even casting a truth spell. "One last chance. Talk to me."
"I already did, wench." His thin mouth twisted into a snarl. He wouldn't answer any more questions voluntarily.
Let's see what magick can do.
Raising my left hand, I pulled Necromancer energy into my body. The power was everywhere, if you knew what to look for. Thousands of travelers had passed along this very road, their hearts filled with joy, dreams, and despair. That force was still in the ether, waiting for a Necromancer to transform it. I pulled the energy into my soul.
Magick rushed through me, energizing my body like a breath of fresh air. I focused it into my left arm. My bones there glowed blue as I whispered an incantation.
Bones born in night
Honed by magick's light
Heed my call
Rise up for the fall
The thief's piggy eyes narrowed. "You don't look like no Fantome."
Hope sparked in my chest. Fantomes were trained Necromancers who served the Vicomte. If Bartley knew about them, then he might be even more valuable. "I'm not a Fantome."
"Well, you can't be no free Necromancer. They're hardly none left." His mouth set into a determined line. "Is this some kind of trick?"
"No, it's more of a trap." I slipped off Smoke and stepped to the side. Pushing the power out of my hand, I set my spell loose. Blue mist appeared about Bartley's feet just as he lunged straight for me.
The man didn't get far. In fact, his feet stayed rooted to the spot.
Bartley shifted his weight, trying to break himself free. "What did you do?"
"Me? Nothing." I gestured toward the ground. Bartley couldn't know it, but more of my magick had whirled beneath the soil, shifting the stones into new forms. "The skeleton I conjured, though…"
Bit by bit, Bartley tipped his head down to peer at his worn leather boots. Skeletal hands had pushed through the earth and were now wrapped around his ankles. The white granite bones contrasted against the dark soil.
"You bitch!" Bartley reached under his longcoat. No doubt, he was searching for a weapon.
This wasn't my first battle, however. I still had plenty of ambient energy left to conjure more skeletal servants.
With a flick of my fingers, another set of bony arms burst through the ground nearby, followed by a third. Two new skeletons wiggled their way out of the soil and stood at attention. They were magnificent—seven feet tall with amber bones and glowing blue gems in their eye sockets. What a sight.
Bartley gasped and yanked a knife out from under his coat.
With a wave of my hand, I summoned more blue mist around me as Bartley tossed his blade at my head. My enchanted shield shattered his weapon before it got anywhere near. Metal shards burst in the air and fell in a glittering cascade to the forest floor. Necromancers weren't supposed to show emotion, but I allowed myself a small smile.
Four more thieves leapt out of the forest, a mixture of men and women in raggedy dress. While howling in unison, they all rushed toward me. Unfortunately for them, they hadn't counted on my skeletons. It was a common enough mistake. Most conjured skeletons were clumsy things that lumbered toward their enemies. Not mine. All my castings were whip-fast and deadly. The moment my skeletons saw I was under attack, they wrapped their bony arms around the thieves' throats, snapping their necks in quick succession. All except one.
Bartley gasped. "Who are you?"
"Someone who deserves answers." I rubbed my palms together. For extra effect, I allowed a small puff of blue mist to whirl about my hands. "Let's try again. What do you know about the Vicomte Gaspard?"
He lifted his chin. "Nothing. I swear."
"I see." This one wouldn't be easy to intimidate into talking. He must be hiding something really important.
I waved my left arm, and two more skeletons wiggled out of the ground. This time, I cast them to look extra frightening. Both were eight feet tall with opal-black bones and pointed teeth. Blue light shone about their bony hands, which meant they could not only fight, but cast spells as well. The pair loomed over Bartley, their jaws clacking with silent laughter. A wet spot appeared on his pants. Excellent.
"Tell me what you know, Bartley. If you don't, I'll be forced to ask them to cast a truth spell. You've heard about those? The skeletons squeeze information from your head. I'm told it's very painful."
"I can't tell you nothing." Little bits of spittle flew from Bartley's mouth as he spoke. "The Vicomte—"
"He's not here and I am." I snapped my fingers, and the two dark skeletons went to work. One held Bartley's head still while the other pointed its bony finger right above his eyeball. "Perhaps we'll work up to a truth spell. There are other ways to injure your skull, you know."
"No!" Bartley stared cross-eyed at the skeletal hand. "He's got Necromancers hidden away."
"Where?"
"On Royal lands."
"I've checked every inch of that man's estate." Or cast spells on his servants to do it for me. "My Sisters aren't there."
"I said Royal lands, didn't I? It's one of the nobility that has them."
My heart sank. I was afraid of that. There were hundreds of noble families. Searching all their lands could take years, even if I dared to use magick. "Which noble is hiding the Necromancers?"
"I don't know." Bartley was visibly shaking now. I believed he was telling the truth—the man didn't know anything more about where my people were being held. Still, I needed other kinds of information. "There's a machine that drains magick from my kind. Have you seen it?"
"I can't tell you 'bout that. He'll find out. He'll kill me."
"He might kill you." I snapped my fingers, and the skeleton twisted its wrist, bringing the pointed bone of its fingertip even closer to Bartley's eye. "But I definitely will."
Bartley howled with fright. "He's got a device. A small thing, no bigger than a skipping stone. I never got to see it close up, but it's made of metal. Them Fantomes put it on the prisoners. That's what drains 'em till they're dead."
I pictured little Ada, six years old and subjected to some kind of evil contraption. The thought made me ill. "Who made this device? How does it work?"
Tears streamed down his dirty cheeks. "I don't know. I swear."
I thought back to the single clue I had from Veronique, one of my Sisters from the Midnight Cloister. As she was dragged away, Veronique spoke the name of a Royal. I'd been searching for that girl ever since. "What do you know of a Royal named Amelia?"
"You mean the Lady Amelia Masson?"
My pulse sped. I was hoping that Veronique was referring to the Lady Amelia Masson. Mostly because I'd already checked another dozen Lady Amelias already and had come up empty. "What do you know of Amelia Masson?"
"Lady Amelia lives near here. She's crazy. Locked herself up for years."
Worry weighed on my shoulders. I hadn't considered that one of the Amelias wouldn't be sane enough to answer my questions. "And that's all you know about her?"
"Bandits broke into her mansion a few months back. Took some silver and ran for the forest. After that, they all disappeared. No one knows what happened to them, but I'm guessing it wasn't good."
"Why do you say that?" I happened to know for a fact that those bandits were dead. I'd found the bodies myself, after I uncloaked the magick that concealed them. They lay in the forest not far from here.
"Lady Amelia is under the Vicomte's protection. One of his adopted children, you know?"
"I've heard." Amelia Masson was also said to be a genius with mechanics, not that I was about to volunteer that information.
"Well, them bandits had no business breaking into her house. Everyone knows what happens when you attack what the Vicomte sees as his property."
"Indeed." The Fantomes had tortured those bandits for days before they finally killed them. My chest tightened with rage. The bodies had been twisted and flayed almost beyond recognition.
Bartley was shaking more violently now. "That's all I know. I swear."
I believed him. Still, I needed to be sure. I nodded to the skeleton holding Bartley. "Test him."
All the blood drained from Bartley's face. "You said you wouldn't cast no truth spells."
"Forcing you to speak is different from testing whether you just lied. This one won't hurt."
The skeleton gripped the thief's head while blue light flared more brightly around its bony hands. "He's telling the truth, Grand Mistress."
"Fine." I couldn't hide the note of disappointment in my voice. "Erase his memory and set him loose."
"As you command."
The skeleton's hands flared blue once again. Bartley's eyes rolled back into his head, and he collapsed onto the ground. He'd sleep for an hour and wake up with a headache. Not to mention a lot of work to do if he chose to bury his friends.
One of the opal skeletons turned to me. "Will you need anything more?"
"No, you all may go." I waved my hand, and the skeletal servants settled back into the earth. Once they were gone, I tapped my cheek and thought through Bartley's news. There were two kinds of people on my continent. First, there were Necromancers, who had magick. Second, there were the Forgotten Ones, who had none. Of course, Forgotten Ones would say they had learning and machines, which were superior to mage craft. Personally, I'd rather have magick any day.
In turn, the Forgotten were divided up into Royals—like the Vicomte—or Commoners such as Bartley. Bartley just told me the lost Necromancers were on Royal lands. No matter how I turned over that information, it didn't narrow things down much. I shook my head. There was nothing to do but move forward. Crazy or not, perhaps the Lady Amelia Masson would have more insights for me.
I hoisted myself into the saddle and patted Smoke's neck. "Let's keep going, girl." I sat up straight, scanned the road ahead, and saw the man who'd haunted my thoughts for weeks.
Rowan.
My breath caught. Rowan and I had teamed together once. He helped me send the Tsar into exile. Afterward, we'd parted ways. I thought I'd forget him. That hadn't happened. Instead, every day I found myself listing the many reasons why Rowan could never be more than my friend.
It was a long list.
To begin with, Rowan was from a different continent than mine. Visiting each other meant casting transport spells, which wasn't easy to do. Plus, Rowan only visited my continent because he served his King as a master spy. Not exactly the kind of man you built a life with.
Then, there came the fact that Rowan was a kind of mage called a Creation Caster. That made him the exact opposite of a Necromancer in almost every way. His magick came from life and nature. Necromancers pulled from death. Casters were known for open displays of affection. Necromancers were schooled to control every feeling. So, although we'd successfully teamed in battle, chances were that Rowan and I weren't compatible in other ways.
To make matters worse, Rowan wasn't just any Caster. His uncle was their ruler, Genesis Rex. Everyone knew that the Imperial family only married for political gain. Meanwhile, I was a lone Necromancer who only owned a small farm.
Not exactly the ideal for an Imperial marriage.
On reflex, my fingers brushed the mating band that Rowan had given to me. I wore it on a chain that hung around my neck and under my clothes. It wasn't a real symbol of genuine affection, only something we'd been forced to exchange in order to fight the Tsar. Even so, I wore it every day.
It was a silly thing to do, but I couldn't help it.
"Hail and well met, Elea." Rowan gave me one of his crooked grins. Warmth spread down to my toes. He was leaning against an oak tree, wearing the loose green leathers, hooded cloak, and longbow of a Forgotten One and a hunter. Some kind of disguise, obviously. When Rowan had helped me fight the Tsar, he'd worn fitted Caster leathers.
Other than the hunting gear, Rowan looked as he always had: tall and strong-limbed with broad shoulders and tousled brown hair. A day's growth of beard rounded his chin. His green eyes seemed to pull me closer, and his full mouth looked delicious.
A delicious mouth? I needed to stop thinking this way about Rowan and quickly. Straightening my spine, I gave him a proper greeting, the way any Creation Caster would. "Hail and well met."
"I should say so." Rowan scanned the corpses. "Excellent work with the Band of Eight, by they way. Those are some of the most fearsome thieves around."
"Band of Eight? I only ran across five of them."
Rowan's smile broadened. "I might have helped a bit. Someone has to keep an eye on you."
A warm feeling spread through my chest. Rowan watches over me. "You didn't need to do that."
"I know." He nodded toward Bartley. "How long before he wakes up?"
"An hour."
Rowan offered me his hand. "Come down and walk with me. We need to talk."
Panic tightened up my spine. Touching Rowan was a bad idea. It always made me lose focus. "I'm fine up here."
"If you insist." Rowan raised his right hand, closed his eyes, and began an incantation. This man was the most powerful mage I'd ever seen. While Necromancers like me pulled their energy from the remains of the past, Casters like Rowan pulled in living power to make magickal animals.
A red mist hovered around the ground at Rowan's feet. Within seconds, the haze solidified into a massive black horse with a red saddle. That could only mean one thing.
Rowan plans to ride alongside me. The thought made me giddy.
"Nicely done," I said. "But where are your snow tigers?" Normally, Rowan rode either Radi or Umeme.
"I'm trying to keep a low profile." He winked. "You should try it sometime." He effortlessly hoisted himself onto the horse's back.
"What do you mean?" I had a fairly good idea, though.
"Your spells. I saw flashes of ethereal light from a league away."
I shrugged. "A girl has to cast sometimes. It may have been bright, but the power levels were low and at close range. No Fantomes would have detected anything."
His full mouth thinned to a determined line. "I still don't like it. The Fantomes are dangerous."
"I'm aware." At one time, the Fantomes had been the personal entourage of the Tsar. Now, they followed the Vicomte. For months, these mages had been scouring the continent and arresting anyone with Necromancer ability.
Mostly, they wanted to find me.
Officially, the Vicomte announced that he desired an audience with the brave Necromancer who sent the Tsar off into exile. I didn't believe that nonsense for a second. What the Vicomte really wanted was another Necromancer to drain.
No, thank you.
"Be careful, Elea. That's all I ask."
I gave him a sly grin of my own. "I suppose I'm not an expert at sneaking about, unlike some people."
"No, you're not." Rowan's gaze suddenly locked with mine. Once again, I felt pulled in by the intensity of his stare. "I like that about you. Quite a lot, as a matter of fact."
By the Sire. His words were making me feel all squirmy inside. I needed to change the subject.
"I'm off for Jaxminster."
"Still looking for a Lady Amelia?"
"Yes, unfortunately. The one in Jaxminster is my thirteenth attempt."
He let out a low whistle. "And what happened with the other twelve?"
"All dead ends." I wanted to scream with frustration. "The next one on my list is the Lady Amelia Masson. Does that name mean anything to you?"
"Not at all." Rowan's face became unreadable. I hated it when he did that. And since Rowan was a master spy for the Creation Casters, he did it quite a lot.
"Why are you really here, Rowan?"
He arched his right brow. "What if I said I missed you?"
"Liar. You're as single-minded about protecting your people as I am about rescuing mine."
"True. Even so, I still missed you."
I wasn't letting him off the hook that easily. "In other words, you'll tell me what you want when you're good and ready."
Rowan chuckled. "How do you read me so well?"
"Call it my gift." We followed a turn in the road. "How has your work been going?" Rowan also sought news of the missing Necromancers, but for a different reason. He feared the Vicomte gathering up their magick. If anyone wielded that much power, then they could attack Rowan's people. As a result, while I'd been hunting down Lady Amelias, Rowan was working on a diplomatic course between the Vicomte and the Caster's King, Genesis Rex. "Any luck so far?"
"We're seeing some initial success with diplomacy. Luncheons, balls, dinners. No word yet about the Vicomte's plans for the Casters."
"That's unfortunate."
"We've made allies with a few of the Royals, which is good. A handful are quite unhappy with the Vicomte. One in particular might be useful."
"Anyone I should know about?"
"Not at this time." His face became stony once more.
"You're doing it again."
"What?"
"Playing the spy."
"You know I'd tell you if I could, Elea." He gave me another one of his intense stares. "My first duty is to the throne."
I blushed and looked away. "I understand." And I did. When your uncle is your King, and that King orders you to keep a secret, then your follow those orders and keep your mouth closed.
We rode along for a few more minutes before Rowan broke the quiet. "Have you any ideas on how the Vicomte could wield Necromancer power?"
"I've been thinking about it." In fact, I'd been contemplating it quite a bit. "It would need to involve a totem ring." That was how we Necromancers stored spells. Totem rings enabled mages to cast lengthy incantations with a single word—there was no lighting up bones or creating colored smoke. Unfortunately, totem rings were incredibly hard to create and only stored one kind of spell at a time.
Rowan stared at my hands. "I notice you're not wearing any today." Normally, I had a totem ring on every finger of my left hand.
"Yes, I've had to set those aside. Wearing totem rings would be a clear sign that I'm a Necromancer. And the spells for creating new rings would attract too much attention." Sadly, I didn't have any old rings to use, either. They'd all been ruined during my last battle against the Tsar.
"The Vicomte using a totem ring." Rowan frowned. "It's possible. Although, how would he get the magick into his body? The man isn't a Necromancer. Totem rings only work for mages like you, right?"
Excitement fluttered inside my stomach. I loved these chats with Rowan. There were no other free mages around that I could discuss new magick with. Sure, I could transport back to my old Cloister, the Zelle, and chat with Petra, my Mother Superior. However, Petra was almost a hundred years old. Her mind was sharp when it came to traditional magick. But when I needed to think through new uses of power, no one was better than Rowan.
"What do you think?" Rowan spoke again, snapping me out of my thoughts. "How could the Vicomte take in power from a totem ring?"
"I do have one idea."
Rowan grinned. "I knew you would."
My body warmed under his praise. "The Vicomte has a number of adopted children. All of them are experts in machines."
"And?"
"He's not bringing in orphans out of the kindness of his heart. I think he's putting them to work. They're creating some kind of device for him. It's a machine about as large as a throwing stone. And if my guess is right, that device could transmit magick into a non-mage."
"Quite possible." Rowan nodded slowly. "The Vicomte's been obsessed with machines for years. We'll focus our spy work in that area." His voice took on a deep tone that I liked very much indeed. "Thank you, Elea."
I looked away quickly. Even with the space between us, being this close to Rowan made me all distracted. I needed to refocus on my mission. "I learned some news about my lost Necromancers. Perhaps you can shed some light on it."
"I'll do my best."
"The Vicomte is hiding my Sisters somewhere on Royal land."
"Not his own property?"
"It's someone from court. The thief back there confirmed it."
"I see." Rowan grew quiet. It was what he always did when thinking through a problem. "Not a lot of places could be used for draining magick. After the Tsar took power, my team canvassed all the known dungeons on Royal lands. None of them would have worked for such a purpose."
"I'm sorry to hear that." A sense of emptiness filled my soul. My people had been disappearing for years, and yet there was no sign of them.
"Take heart. I'll check around. One of the old dungeons could have been adapted for draining magick. Or perhaps a new one was built since the Tsar took power." He pulled off his glove, reached across the distance between us, and took my hand. The shock of his touch moved through me. Confidence and care warmed my soul.
Oh, you are dangerous, Rowan.
"If anyone can find them, Elea, you can."
Rowan gave my hand a gentle squeeze and then released me. My arm went cold without his touch. I hated admitting this, but I dearly missed Rowan. That simply wasn't right. Necromancers like me shouldn't form attachments. Still, when it came to Rowan, I couldn't help myself somehow. I cleared my throat and tried to put on a casual voice. "If nothing comes of this last Lady Amelia, perhaps I could aid you in your diplomacy."
He gave me another crooked smile. "You might expose me with your spells."
"A likely story. You just don't want me involved."
"That's right." His gaze intensified once again. "I want you safe. If this last Amelia doesn't work out, then I want you to return to Braddock Farm."
Naming my old farm made my chest ache. The servants who were working on it were good people. They sent me regular missives, and things were going well. Even so, that farm was my only home. Some days I wanted my old rocking chair and fire-lit hearth so badly, I could hardly stand it. And if I failed with the Lady Amelia Masson, then I was sorely out of other options and ideas.
I stared at the western horizon. Braddock Farm was that way. Maybe it was time to regroup for a while. I could harvest some grain. Read a few spell books. Plan other ways to find Ada.
When I spoke again, my voice was dreamy. "If I went back to Braddock Farm—and I'm not saying that I would—would you alert me of any news?"
"I'd even let you cast a compulsion on me."
I scanned his features carefully. A compulsion spell was no small thing, and Rowan's face looked open and earnest.
"In that case, I'll consider it."
His eyes glittered. "That's all I ask."
We reached the edge of the forest. A small town stretched out before us. Jaxminster. Here the buildings stood no more than two stories high. All of them were made of white plaster and framed by heavy wooden beams. A tall clock tower stood at the far edge of town.
I stopped my horse. "This is the place. Lady Amelia Masson lives in the estate beyond that clock tower."
"How do you know?"
"Amelia was adopted by the Vicomte. All his so-called children have extraordinary gifts in science or mechanics. They must build their own clock towers as an early project for him."
A flicker of unease crossed Rowan's features. "I hope it goes well for you."
"I've nothing to fear from her. The worst rumor I've heard is that she's a crazy recluse. At least, she's not one of the adoptees who builds weapons."
Rowan frowned. "What about the Fantomes?" It was a valid concern. Almost every Royal had a Fantome in residence. That was how the Vicomte controlled his court.
"Amelia's out of favor. She doesn't have any Fantomes around. I'll ask her a few questions and hope she has answers. Perhaps she'll share something useful."
Rowan's frown deepened. I knew he was still worried about my safety.
I lowered my voice to a serious note. "I'll be fine, Rowan."
"Still, I'd rather that you could easily contact me without attracting attention." Rowan raised his right hand. The veins there glowed red as crimson mist swirled about his arm. Within seconds, the haze solidified into a little robin that sat quietly on his palm. "This bird is one of my familiars. If you need to get a message to me, call her name, Tamu. My magick will do the rest."
The little creature hopped onto my shoulder. Her tiny claws pricked my skin before she flew away. "I will. Thank you."
Rowan opened his mouth to say something and then closed it just as quickly. I glanced over to his hands. He was wearing his heavy leather gloves once more. I couldn't help but wonder… Did he ever wear his mating band? For one full day, our souls had been connected through those rings. Did that mean as much to him as it did to me?
My hand settled onto the base of my throat where my own ring hung under my gown. I knew it was weak of me. Even so, I treasured this band. Wearing it with Rowan was one of the few moments in my life where I felt truly linked to another person.
Rowan noticed my hand, and his features became unreadable. An itchy feeling moved over my skin. When we were talking just now, Rowan admitted to hiding something for his King. What could it be? Part of me wanted to press for a full answer, yet I held back. I couldn't afford to get any more involved with Rowan than I already was.
My mission lay elsewhere. I needed to save Ada and the other Necromancers. Straightening in my saddle, I nodded toward the town. "It's time for me to leave."
Rowan shifted his horse onto another path. "Be safe."
"And you as well." I clicked my tongue, and Smoke took off for Jaxminster.
END OF SAMPLE
CONCEALED launches October 25th and is now available for pre-order on Amazon, B&N, iBooks, and Kobo