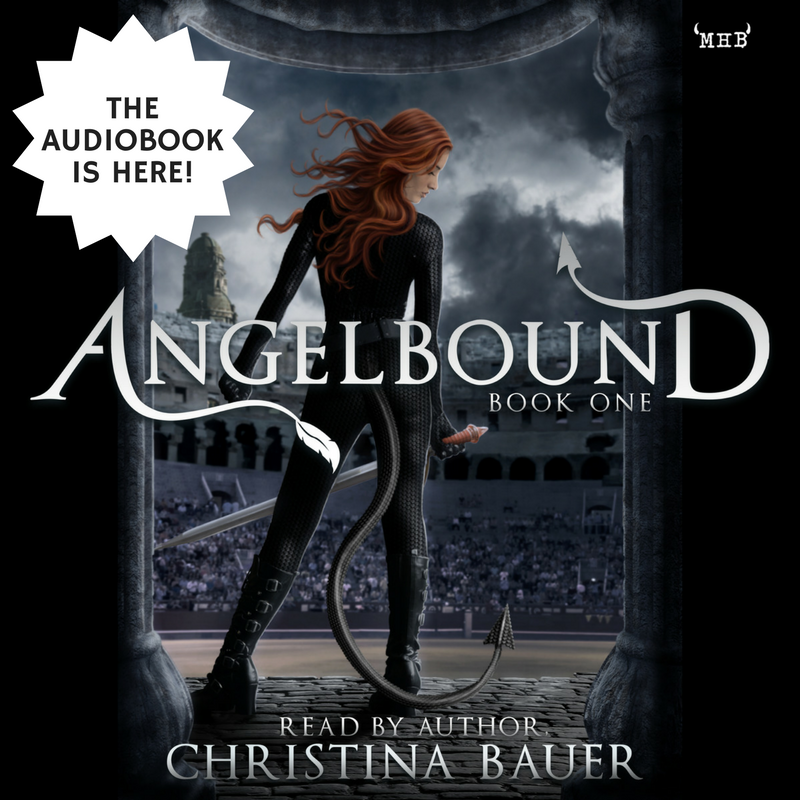 Today marks the official launch of the audiobook version of my best seller, ANGELBOUND, on iTunes & Audible! Here are all the details, giveaways and goodies…
  READ ABOUT THE AUDIOBOOK
Eighteen year old Myla Lewis is a girl who loves two things: kicking ass and kicking ass. She's not your every day quasi-demon, half-demon and half-human, girl. For the past five years, Myla has lived for the days she gets to fight in Purgatory's arena. When souls want a trial by combat for their right to enter heaven or hell, they go up against her, and she hasn't lost a battle yet.
But as she starts her senior year at Purgatory High, the arena fights aren't enough to keep her spirits up anymore. When the demons start to act weird, even for demons, and the King of the Demons, Armageddon, shows up at Myla's school, she knows that things are changing and it's not looking good for the quasi-demons. Myla starts to question everything, and doesn't like the answers she finds. What happened seventeen years ago that turned the quasi-demons into slave labor? Why was her mom always so sad? And why won't anyone tell her who her father is?
Things heat up when Myla meets Lincoln, the High Prince of the Thrax, a super sexy half-human and half-angel demon hunter. But what's a quasi-demon girl to do when she falls for a demon hunter? It's a good thing that Myla's not afraid of breaking a few rules. With a love worth fighting for, Myla's going to shake up Purgatory.
  ABOUT THE AUTHOR
Christina Bauer knows how to tell stories about kick-ass women. In her best selling Angelbound series, the heroine is a part-demon girl who loves to fight in Purgatory's Arena and falls in love with a part-angel prince. This young adult best seller has driven more than 500,000 ebook downloads and 9,000 reviews on Goodreads and retailers. It is now available as an audiobook on Audible and iTunes.
Bauer has also told the story of the Women's March on Washington by leading PR efforts for the Massachusetts Chapter. Her pre-event press release—the only one sent out on a major wire service—resulted in more than 19,000 global impressions and redistribution by over 350 different media entities including the Associated Press.
Christina graduated from Syracuse University's Newhouse School with BA's in English along with Television, Radio, and Film Production. She lives in Newton, MA with her husband, son, and semi-insane golden retriever, Ruby.
Stalk Me On Social Media – I Love It!
Blog: http://monsterhousebooks.com/blog/category/christina
Facebook: https://www.facebook.com/authorBauer/
Twitter: @CB_Bauer
Instagram: https://www.instagram.com/christina_cb_bauer/
LinkedIn: https://www.linkedin.com/in/christina-bauer-481b12139/
Web site: http://monsterhousebooks.com/authors/cbauer