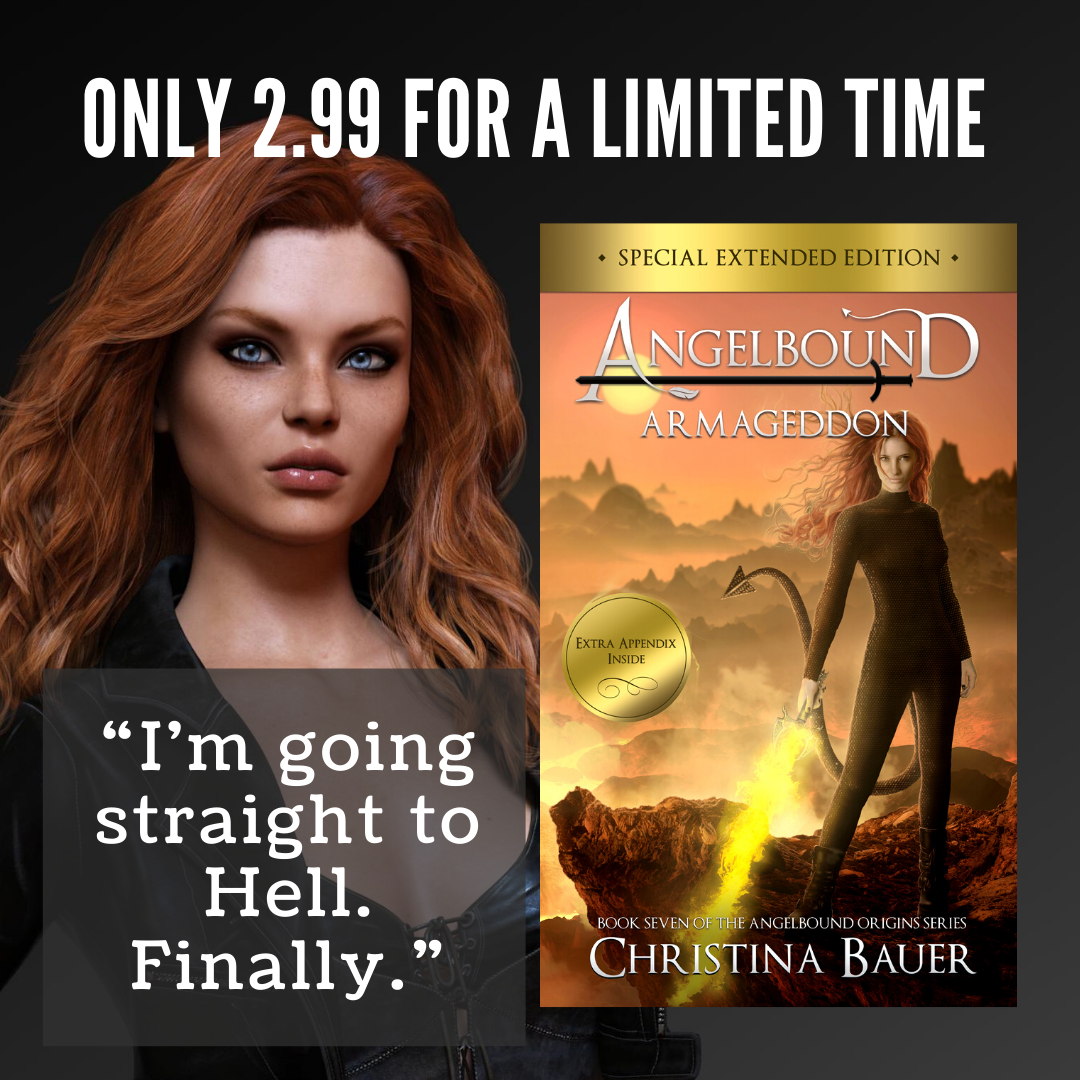 Only $2.99 to celebrate the launch of Book 8, QUASI REDUX
ARMAGEDDON, Book 7 of the Angelbound Origins by Christina Bauer
Amazon / Barnes & Noble / Kobo / Apple Books / Googleplay

Myla Lewis once fought gladiator-style in Purgatory's Arena. Now, she's fighting again, only this time in Hell. And the stakes have never been higher. The King of Hell, Armageddon, has kidnapped Myla and Lincoln's young son, Maxon.
In the wake of Maxon's abduction, all the after-realms calling for war, and no one shouts louder than Lincoln. Myla knows that a war against Hell will cost millions of lives, so she devises her own plan, involving a small attack team and a secret entrance to Hell. Will Myla save Maxon, or will her child and all the after-realms fall to Armageddon?
"This was one of the best in the Angelbound series. It was great to have Myla-la back and I absolutely love Lincoln and Maxon. The story takes you on a ride that is truly awesome!" – Angelspearl
"Wow… I mean this series was great already, but Armageddon was such a great addition. A rich and believable world!" – Trips Down Imagination Road
About Quasi Redux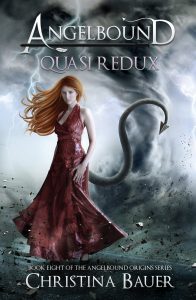 Book 8 of the Angelbound Origins by Christina Bauer
Googleplay / Apple Books / Amazon / Kobo / Nook
Myla Lewis has her life back. Wife. Mother. Great Scala. Queen of the Thrax. Yay! Then our heroine runs across a supernatural waterfall that makes her igni screech like crazy, causing Myla to speak the fateful words: some days, I wish I weren't the Great Scala.
The waterfall grants her wish.
A moment later, Myla is back at Purgatory High. No husband. No child. No powers beyond her old quasi days. And without Myla around as the Great Scala, all quasis now live under Armageddon's rule. That sucks. Hard. So Myla sneaks into Antrum—she simply must find Lincoln and figure this out. Once she arrives, two problems arise.
First, her husband doesn't know her. At all.
Second, Lincoln is married to someone else.
Fuuuuuuu…
Releases September 29, 2020