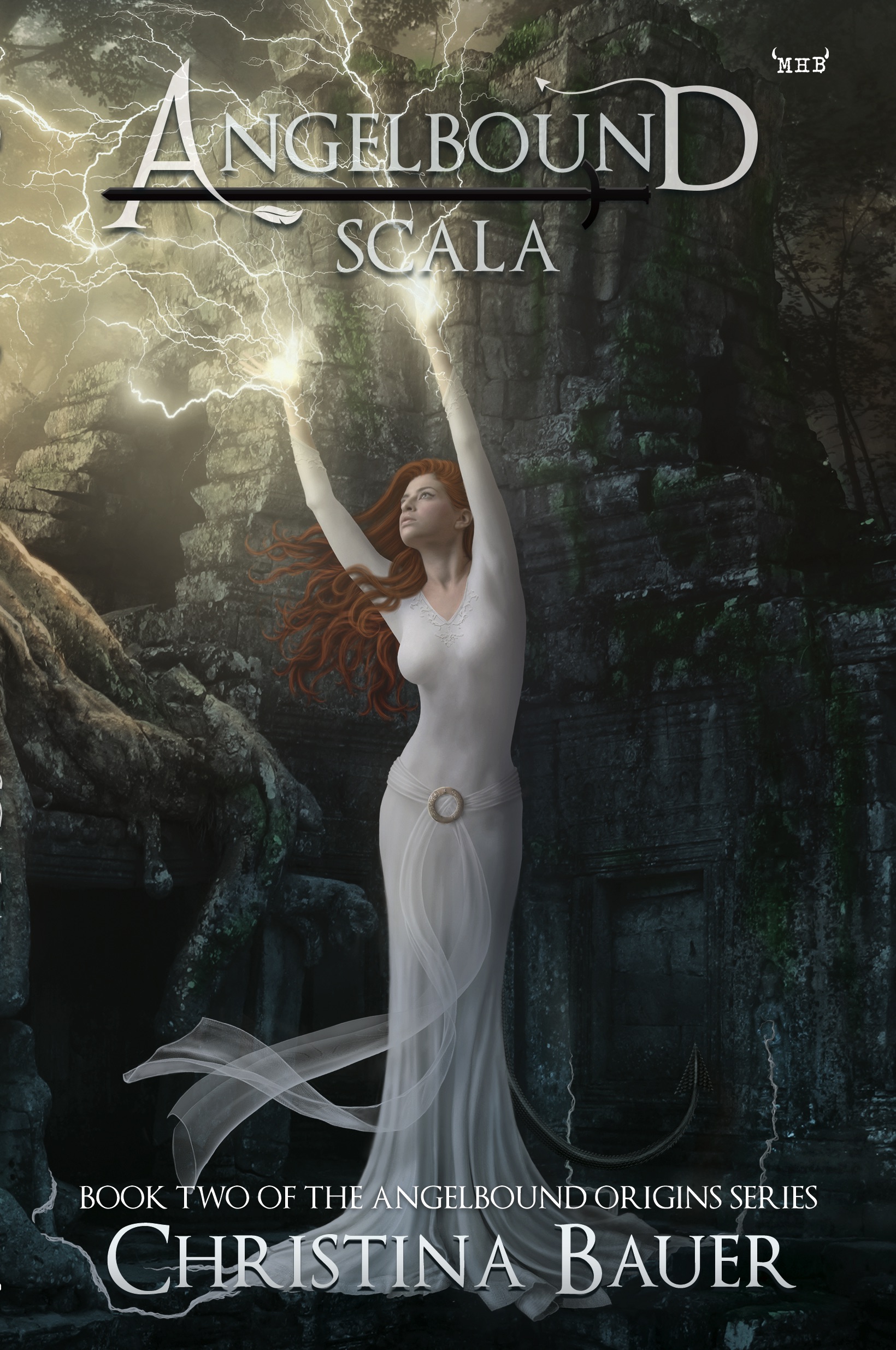 Scala (Angelbound Origins 2)
Nineteen-year-old Myla Lewis has transformed into Great Scala, the only being with the power to move souls out of Purgatory and into Heaven or Hell. Trouble is, a magical object called Lucifer's Orb is limiting Myla's abilities. If she tries to move a soul, the Orb's forcing her to send that spirit straight to Hell.
So, what's a girl to do? Send innocents to the fiery down-under?
No way. Myla's gone on a supernatural strike. No souls go anywhere until the Orb's history. It's the right thing to do, but Purgatory's Soul Storage buildings are turning into time bombs. No spirits are moving out, while millions keep coming in. Myla's determined to find the Orb and send the innocent to Heaven, but she's running out of time. Soon, the containment fields will burst, releasing a mob of homicidal ghosts.
With Soul Storage ready to explode, Myla's got enough on her plate without her old enemy, Lady Adair, causing problems. Adair is launching an ingenious campaign to take away everything that Myla holds dear, including Myla's Angelbound love, Prince Lincoln.
Between their clever ideas and toe-curling kisses, Myla and Lincoln are fighting back. But will they beat the clock or lose everything to Adair's devious schemes?
To be released as an audiobook in 2017…click here to sign up for release notices!
Buy Now:
Recent Reviews
I was fortunate enough to receive an early copy of this book and my god, I DEVOURED it! Christina Bauer has quickly become one of my favorite authors for the simple fact that she creates a story that sucks you in from the very beginning with characters that have you swooning one moment and laughing the very next.
I adore Myla Lewis. I love her strength, her wit, her no filter mouth. She's no girly girl and thank god for that! Yet the chemistry with her love interest, the oh so dreamy Prince Lincoln is HOT!
I won't say anymore than that because I highly recommend picking up the book and falling in love with the series yourself.
Jen, Goodreads
Not only do Myla and Lincoln steam up some serious scenes but they are also able to work together and bring out the best of one another and fight back against all of their enemies seen and unseen.
Functioning Insanity Blog
The plot is so much fun! Well, I know it's not fun for Myla. The conflict felt so tough and unsolvable that you just can't help reading more and more. I have no idea how the characters would overcome it before. Thumbs up! And just like the first book, Christina Bauer's writing style is one of my favorites. Enough said. I am dying to read the next book!
Four Eyed Cat Reviews
Outstanding. Christina Bauer blew my mind once again. Angelbound exceeded all of my expectations. And I have been waiting for to long for Scala to come out and I was happy when I received it on the 12th rather than on the 13th of may.
David Torres, Goodreads
Let me start by saying that I have been waiting for this book for what seems like a lifetime. It did not disappoint!
The world that has been created is so original and so mystifying. These books are among the best I have ever read. They are exceptionally written, and the characters and so wonderfully developed.
Christina has a fan in me forever. There is no doubt about it; I will own every book by her!
Amy, Goodreads
Amazing!!! I can't get enough of this series!!! I wish this one would've been longer!!! It was great to see Myla come into her own and the relationship between Lincoln and herself blossom!! Everyone got what they deserved!! Such a unique series!! Can't wait for book 3!
Abby DeLong, Goodreads