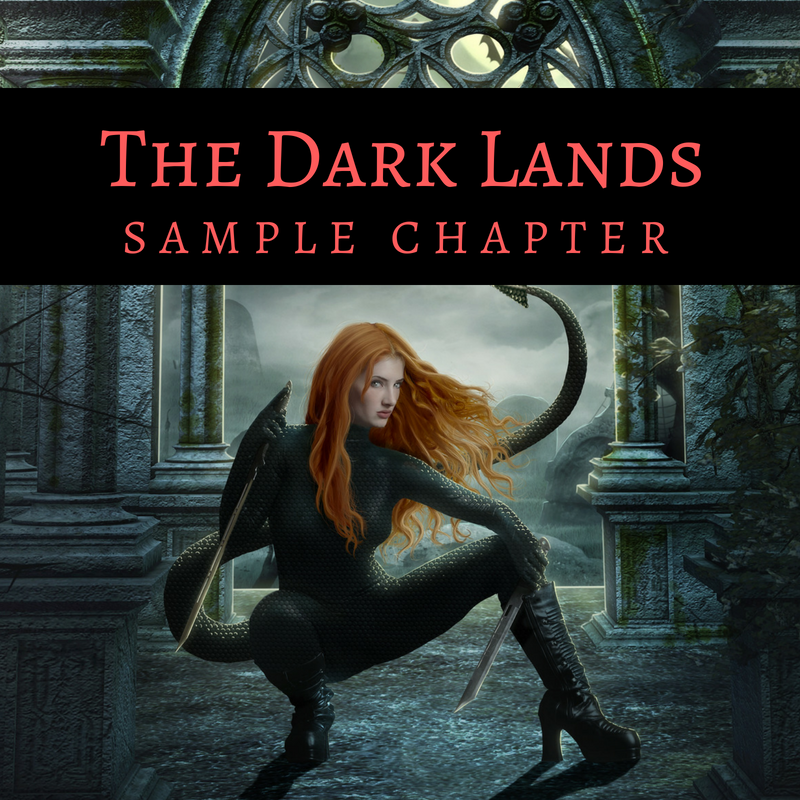 Dear Readers,
I'm super excited to share chapter one of THE DARK LANDS with you!!! For those of you familiar with my work, you may have noticed that you can't always (or perhaps ever) tell what the books are really about from the back cover copy. For THE DARK LANDS, you know Walker is in trouble, but not much else. Well, here's your sneak preview of all things DARK LANDS! The full title launches in late September on Amazon, Barnes & Noble, Kobo, iBooks, and GooglePlay. 
Christina
THE DARK LANDS
Angelbound Origins Book 5
Chapter One
Worms.
Why does it have to be worms?
Purgatory hosts farms for cows, puppies, chickens, and—my personal favorite—baby goats. So why am I trudging through my homeland's biggest farm for worms at this very moment?
Because my honorary older brother Walker asked me to.
Plus, Walker's a ghoul and his kind love worms. Long story.
Speaking of Walker, he keeps pace beside me as we trudge along a cobblestone path toward a distant farmhouse. It's all part of our goal for today: visit that house, meet some quasi demons (part-human and part-demon folks like me) and then … something something something.
Walker's being very sketchypants about the whole deal.
Meh. I'll get the truth out of him eventually. He's not my honorary older brother for nothing.
All around, neat rows of dirt stretch off in every direction, forming a landscape that reminds me of brown corduroy. Light gray clouds hang overhead. The tangy scent of fresh earth surrounds me. For Purgatory this is a pretty nice day, weather-wise. At least it's not raining. Since I'm a supernatural being called the Great Scala—not to mention the Queen of the demon-fighting thrax—I do a lot of official visits. Today looks to be pretty standard stuff. Pay a visit. Be sure to smile. Let the locals take selfies. No biggie. Then, something unexpected happens.
Walker stops keeping pace.
Huh.
I pause.
Stare.
Do a double take.
Stare some more.
This can't be right. Walker's limping?
A chill of dread crawls up my neck. Walker has the magical power to self-heal. As far as I know, only Walker and his forebear, the archangel Aquila, have this ability.
So why is Walker limping? He recovers from almost any injury with lightning speed.
I adjust my pace so Walker and I walk in sync. Beside me, my honorary older brother looks as he always does: tall and pale in his long black ghoul robes. He has strong bone structure and hair that stays in a perma brush-cut with sideburns. It's the same look Walker had when his mortal form passed away sometime in his mid-twenties. By contrast, I'm an eighteen-year-old chick with lots of curves, long auburn hair, and a tail.
In other words, the two of us don't scream honorary brother and sister, but we make it work.
And did I mention that he never limps? He doesn't.
"What happened to your leg?" I ask.
Walker's shoulders tighten ever so slightly. He's bracing himself for something. It sets of my internal danger alarms. Very little worries Walker.
"That's not easy to answer," replies Walker at last.
"Mom told me you were attacked in Purgatory Central." My homeland of Purgatory is mostly a huge concrete strip mall with less flash and more rubble. There are a number of super crappy areas, too. Purgatory Central is one of the worst. "Is that when this happened?"
"Your mother shouldn't have said anything about that."
"So, that's a yes."
"Yes, it's a yes." Walker hisses in a pained breath. A weight of worry settles into my stomach. My friend is hurting.
"Well, Mom's worried about you." Since Mom's the President of Purgatory, worrying is her job, but I don't add in that part. Walker does projects for Mom; he already knows how serious she is. "She's convinced you have a stalker."
"There's no stalker," says Walker. "My visit to Purgatory Central was to search for information. I wasn't successful. There was a small fight when I asked a few questions of the locals but I prevailed. End of story. "
End of story, my ass. Walker knows waaaaaaay more than he's telling me.
Pausing, I set my fist on my hip. "Does this incident at Purgatory Central have anything to do with why you dragged me to a worm farm today?"
Walker stops as well. "Yes again."
"That's all I'm getting? Yes again? How about some details for your honorary younger sister and official Great Scala?"
That's only a partial resume listing, by the way. I'm also eighteen years old, married to Lincoln (aka the King of the Thrax) and the happy mom to one chubby baby Maxon. But I leave those parts out. As the Great Scala, I'm the only being who can transport souls to Heaven or Hell. Emphasizing that part is usually enough to get me whatever I want. To make my point extra clear, I gesture across my outfit: a white sheath dress that serves as my official Scala robes.
Walker follows my movement, but makes no reply. Silence presses in around us. Sadness and worry seems to rolls off my friend in waves.
Yipes.
"Seriously," I state. "What's going on?"
Stepping in front of me, Walker grips my shoulders. With this move, my tail perks up. All quasis have one; mine is long, black, and covered in dragon scales. The arrowhead-shaped end arches over my shoulder to wave at Walker. For the record, my tail doesn't care that Walker is Mister Miserable today. All it is that Walker's giving me attention, and that interest should be focused on someone else. Namely my tail.
Normally, I'd give my tail some snark for being an attention hog, but Walker has me too worried for regular levels of sass.
Walker's large, soulful, and all-black eyes lock onto my gaze. "I'm sorry," he says, and his voice rasps with grief. "There's no way for me to explain everything."
Before, a little chill had been working its way up my neck. Now that sensation transforms into a full-on body freeze of fear. "You're scaring me."
"It's been my privilege to help raise you," says Walker, his voice still rough. "I want you to know that."
I frown. "Still scaring me."
"I was born part archangel," continues Walker. He speaks with the careful rhythm of someone who's practiced this speech many times. "When I became a ghoul after death, it limited my ambitions. Ghouls like me weren't supposed to attend Heaven's Citadel for warrior training. Your father Xavier pulled rank, though." Walker deepens his voice in a dead-on impersonation. "I'm the general of the Angelic Army, your father said. This man gets trained."
"That sounds like Dad, all right."
"Xavier always saw me as a person, not a ghoul. Without his help, I'd never have become an angelic warrior. To this day, I live by the scared values of his Angelic Army, namely honor, service, and sacrifice."
I can only repeat that last word. "Sacrifice?"
Walker lifts his chin. "Yes."
I narrow my eyes. "Hey, I've seen enough human movies to know what this is. You're giving me a hero speech, the one that happens right before the good guy does something like…" I wave my hands around, trying to find the words. "I've got it." I snap my fingers. "Like fly his fighter jet slap into an enemy battleship. BOOM!" My pulse speeds. "Tell me I'm wrong, Walker."
A sad smile rounds Walker's mouth. "This is indeed a variety of hero speech."
Bolts of panic move down my spine. My mouth starts moving on its own. "No way. Nuh-uh. You are not flying your figurative fighter jet in to someone else's battleship. That whole concept stops right now. Tell me what going on and spare no details. We'll figure something out." I point to the earth. "Your jet is staying grounded, buddy."
"Not this time," says Walker slowly. His gaze turns even more intense. "I can't give you all the information at this time. The most I can do is make a request."
Every cell of my body wants me force Walker to blab every last detail of his problem. Maybe I could wrestle him down with a sleeper hold or something. Anything is better than allowing him to finish his hero speech.
Walker's eyes fill with misery. "Please, Myla."
Hells bells. That does it.
I'm a total sucker for Walker when he goes all big-eyed and says please. Nodding, I grip my hands behind my back. That way, I'm less tempted to pull Walker into a sleeper hold.
"Go on," I say.
"It took years for me to complete my training at the Citadel," says Walker. "After I graduated, your father said he'd made a deal with Armageddon, the King of Hell, in order to keep your mother safe. Xavier traded an eternity in Hell for your mother's safety. Your father never expected to escape Armageddon."
At this point, Walker has my rapt attention. Sure, I know the basics of the story of my father's sacrifice. That said, neither my father nor Walker has ever told me all the specifics. Whenever I ask Dad, he gets choked up and changes the subject. As for Walker, he always says he won't share the story unless he has no choice. That seemed cryptic for an answer, but I figured Walker would blab when he was ready.
I guess that moment is now.
"Xavier asked if I would take on a great responsibility for him," says Walker. "He wished me to watch over your mother after he was gone. I owed your father such a massive debt, so I readily agreed. Then your father was taken by Armageddon." A flinty look of rage enters Walker's eyes. Armageddon spent years torturing my father. "Once Xavier was taken, your mother announced she was pregnant. And you came into my life."
Knowing Walker all my life, I understand how his mind works. All of a sudden, it's clear why he saved up this conversation for today. "You've watched over me since before I was born. I owe you a great debt as well."
"This isn't easy for me to ask." Walker sighs. "I may need you to accept a great responsibility as well."
The world takes on an unreal gleam. The gray sky, corduroy landscape, even Walker in his black ghoul robes … everything seems to hold the wobbly look of a dream. Or in this case, a nightmare. There's no question where this conversation is leading. Walker might be going away, just like my father did. He needs my help.
"Whatever it is, I'll do it." I make sure my eyes glow blue with my angel power, so it's absolutely clear that I mean what I say. "You can trust me."
Walker lowers his arms, pulls a watch off his wrist, and hands it to me. "Take this."
I lift the modern-style watch from Walker's palm. It's Earth-style, which means the technology actually works. The device has a square face and is basically an eentsy-beensy wearable computer. I turn the thing over in my fingers.
"Did Cissy get this for you?" My best friend gets tech like this through her father, aka the guy who unofficially runs Purgatory's black market.
"Yes," replies Walker. "And Lucas made some enhancements."
My brows lift. "Lucas as in the Earl of Striga?" Thrax society is divided up into houses. When it comes to magic, Striga is the strongest house around, and Lucas is their best warlock.
"Yes, that Lucas," replies Walker.
I flip the watch over in my hands. "What do you want me to do with this?"
"Hopefully, nothing," answers Walker. "This isn't like the situation with your father in one respect. I may not have to go away. It all depends on what we can find out today."
My mind whirls through this information. Some of today's visit comes into clearer focus. "The Enmity brothers run this farm. They're the exclusive supplier of worms for the Oligarchy." As I say the name Oligarchy, I can't help but frown. The Oligarchy are four evil-slash-whimpy ghouls who run the Dark Lands, the home to all things ghoulish. "Thanks to their Oligarchy connections, the Enmity Brothers can find out just about anything." I tap my chin, thinking through what Walker said about his fight in Purgatory Central. "You didn't get the info you needed in Purgatory Central, but you think the Enmity brothers can deliver."
"I knew you'd catch on quickly." A note of pride shines in Walker's voice. "A new item has become available on the black market; the Oligarchy wants buy it. I simply must know exactly what that item is. The Enmity Brothers are my last chance."
I scan the landscape, my thoughts still running through everything Walker's told me. "If this item's on the black market, then I'm guessing you already checked with Cissy?"
"I did. Cissy couldn't find any answers. She did come up with that watch, though."
My bottom lip puffs out ever so slightly. "She didn't tell me anything about it."
"You're not the only one who owes me favors, Myla."
Well, that's the truth. Almost everyone owes Walker for something. Closing my eyes, I try to bring the final parts of this new Walker-picture into focus. Damn. A piece of whole picture stays just out of reach. Opening my eyes, I stare at the device in my palm. The square watch face blinks with big red letters and numbers. I read them aloud. "Twenty-eight hours, two minutes, seventeen seconds."
I shake the watch.
Tap it.
But the numbers remain.
So not good.
Adrenaline pumps through my veins. "Is this a bomb timer or something?"
Walker winces. "Not exactly a bomb timer. But it does count down to something we must prevent."
I grip the watch more tightly. If Walker's counting down to stop some kind of disaster, then I'll definitely do whatever I can to help him. "What's your plan?"
"You approach the Enmity brothers and demand an audience with their leader. Alone. The Oligarchy have ordered the Enmity brothers not to speak with anyone, so you may need to use your Great Scala magic."
By Great Scala magic, Walker refers to the tiny lightning bolts of power called igni, which I command in order to move souls. It impresses-slash-scares the crap out of people, so after an igni show, everyone tends to do anything I ask.
"I'll do my best," I say. "You know how my igni are."
Translation: igni are total flakes.
"I have every faith in you," says Walker solemnly. "Once you find out what the Oligarchy are looking for, you'll share the information with me. Then, I'll leave for an hour. Sixty minutes only. If I don't return in that time, then you must review what's in that watch." His voice lowers. "Continue on without me."
Grief and worry constrict my throat. "If you don't come back, then you may be sacrificing yourself for someone. Who?"
"My brother, Turner."
My mouth falls open. "You have a brother?" I thought Walker had cut all ties from his mortal life.
Reaching forward, Walker wraps his hands around mine once more. His grip becomes so tight, the square watch I'm now holding digs into my palm. "Promise me this. If I don't return in an hour, you'll examine this watch. Unlock its secrets. Free my brother."
A weight of sorrow settles on my shoulders. Things are happening too quickly, and I don't understand any of it, except for one fact.
This is some kind of goodbye from Walker.
"Can't you wait a few minutes?" My voice comes out with a desperate edge, and I don't care. "Lincoln is meeting us here. Maybe he'll have some ideas on how to help Turner."
"Trust me, I've looked at every angle. Discover what the item is. I'll try to stop its sale. If I don't return in an hour, then unlock the information in that watch. Cissy and Lincoln can help you. This is the only way."
I shift my weight from foot to foot. There's no shaking the sensation that I'm still something important here. At last, the question appears.
"Why don't you ask my father to help?"
Walker's mouth thins to a frustrated line. "Xavier wouldn't aid me. Not on this."
My heart sinks. Bingo. There's my answer. Walker and Dad routinely disagree on only one subject: Lucifer, the ex-King of the Angels and my father's one-time best friend. Dad and the other archangels imprisoned Lucifer, but not before the ex-King left behind a bunch of magical trinkets that cause me no end of trouble. I've already had tons-o-drama in getting rid of Lucifer's Orb and Coin. A foul taste creeps into my mouth. "This item on the black market … It's from Lucifer, isn't it?"
Walker nods.
"And if it gets free, it could effect a lot more than your brother, wouldn't it?"
More nodding.
I purse my lips and tilt my head, which is my classic thinking pose. Walker needs help, the after-realms are at risk, and that's all I need to know.
"Okay, whatever this is, I'll kick its ass."
Walker exhales. "Thank you."
I wrap the massive watch around my wrist. It isn't clear where the buttons are, but I seem to press a few along the way. Images flash across the small square screen. There's a dark mansion surrounded by a wrought iron gate … a graveyard filled with statues … and a raven-style mask. The last picture hangs on for a long moment: the mask is definitely for a man. It's smooth, black, and has a long V-shape over the mouth to signify the raven's beak.
That déjà vu feeling hits me again. This is all familiar somehow; I just need to put the pieces together.
Sadly, as quickly as the images appear on the screen, they vanish. I tap the watch face, but nothing happens. "Is this thing broken?"
"That watch will come to life again in one hour, if I don't return."
"But that won't happen," I counter. "Because I'm going to work these Enmity brothers over and get the info you need. You'll go away for an hour, stop this whatever-it-is from getting sold, hustle your cookies back here, and then we'll all be good."
One side of Walker's mouth quirks up into a grin. "That's my Myla."
I hitch my thumb toward the farmhouse. "Let's do this."
We resume our march along the path to Enmity Farms. This time, I take care to go slowly, considering how Walker's still limping. Even so, the sight of his pained gait gets to me. I'm part Furor demon, which means I have powers over two mortal sins: lust and wrath. Just knowing someone hurt Walker? That makes my inner wrath demon seethe with white-hot fury.
Whoever hurt my honorary brother, they will pay.
Soon the main house of Enmity Farms looms just ahead. Up close, the place looks like it fell out of that old movie, Gone With The Wind. I'm talking pale wooden siding, tall white columns out front, wrap-around porch, the whole Tara big-ass plantation dealy-yo-yo. It's totally unusual for Purgatory, by the way. Most of our buildings are run-down piles of junk.
The white mansion gleams pristinely in the dim afternoon light. While the front porch is empty, vague shapes shift behind the large bay windows. The Enmity brothers are most definitely at home.
Good.
I take a few steps closer to the front door and pause for a weapons check. Sure enough, my baculum rods are in their proper place, strapped into a holster at the base of my spine. The cool metal feels chilly against my fingertips.
Yes.
Since I'm part archangel, I can ignite baculum into any number of weapons made from angel fire. I glance over my shoulder at Walker.
"You got yours?" I ask.
There's no need to say anything more; Walker knows exactly what I'm talking about. After all, he's part archangel too. "I do."
"Good," I lower my voice to a hush. "Because if half the things I've heard about these brothers are true, we might be in for a fight."
The distinct sound of a throat clearing fills the air. Turning around, I face Purgatory Tara once more. Only now, the wide front porch is filled with seven stout men with red hair, full beards, and scorpion tails. And they way they're all glaring at me? Clearly, they heard my every word.
A smile automatically curves my mouth. These days, I may be a queen, mother, and demi-goddess, but in my heart, I'm still an Arena fighter. If these Enmity brothers want trouble, no worries. I've had more than my share of baby care and boring meetings. Plus, my inner wrath demon wants someone to hurt for injuring Walker. Might as well be these guys.
Hellooooooo, trouble.
—End of Sample Chapter—
THE DARK LANDS Launches Sept 25, 2018
Amazon: https://tinyurl.com/yat2eajn
iBooks: https://tinyurl.com/yb3kpzm8
Barnes & Noble: https://tinyurl.com/y8zrn43o
Kobo: https://tinyurl.com/y87qdnm8
GooglePlay: https://tinyurl.com/ybtfq6so