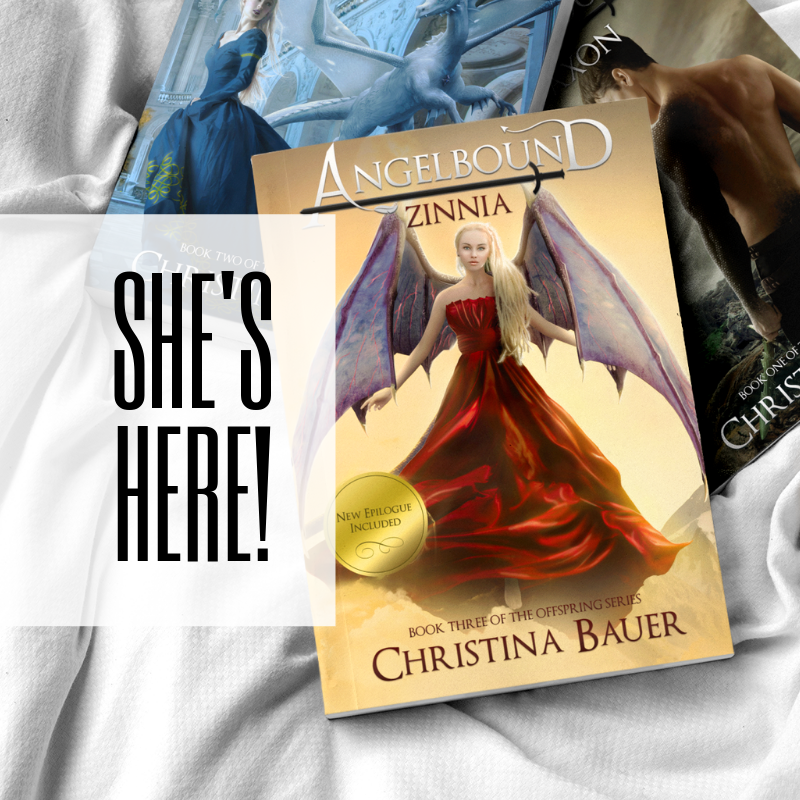 Sick of all those dragon books where someone finds their life mate … then gets their memory erased before being dragged off to train as a warrior … only to find said life mate again a decade later when he's touring with a rock band?
Me, neither!
In all seriousness, this book has been four years in the making and I can't wait to share it with you…
Zinnia
Book 3, Angelbound Offspring
eBook ISBN: 9781945723865
eBook for Apple Books ISBN: 9781946677099
Print ISBN: 9781945723896
Amazon / Barnes & Noble / Kobo / Apple Books / GooglePlay
As the last dragon shifter, I live alone, hiding in one of Earth's sacred deserts. My human handlers tell me that I have no parents, no name, and no purpose other than to train for battle and one day become a vessel for the reincarnation of Chimera, the greatest dragon shifter of all. Sadly, Chimera's rebirth will mean my own death. But my handlers say this sacrifice is a noble fate that will rebuild the dragon shifter world.
I shall die on my seventeenth birthday. That's five days from now.
Then I hear music thumping across the desert. I take my mortal form, follow the sound, and find humans dancing in what they call a rave. There is a stage and a rock band. One thing quickly becomes clear: Unlike the audience, the musicians are dragon shifters, just like me. And one of them, the guitar player Rhodes, makes my knees turn watery. The lead singer, Kaps, has something strangely familiar about her.
It all adds up to one conclusion: My handlers lied to me. I'm not the last of my kind. Memories reappear. I had parents once. Portia and Tempest. I even had a name. Zinnia. Perhaps I have a reason to live as well. I step past the dancing humans to confront the players.
I will find out the full truth, no matter what.
See It On: Amazon / Barnes & Noble / Kobo / Apple Books / GooglePlay