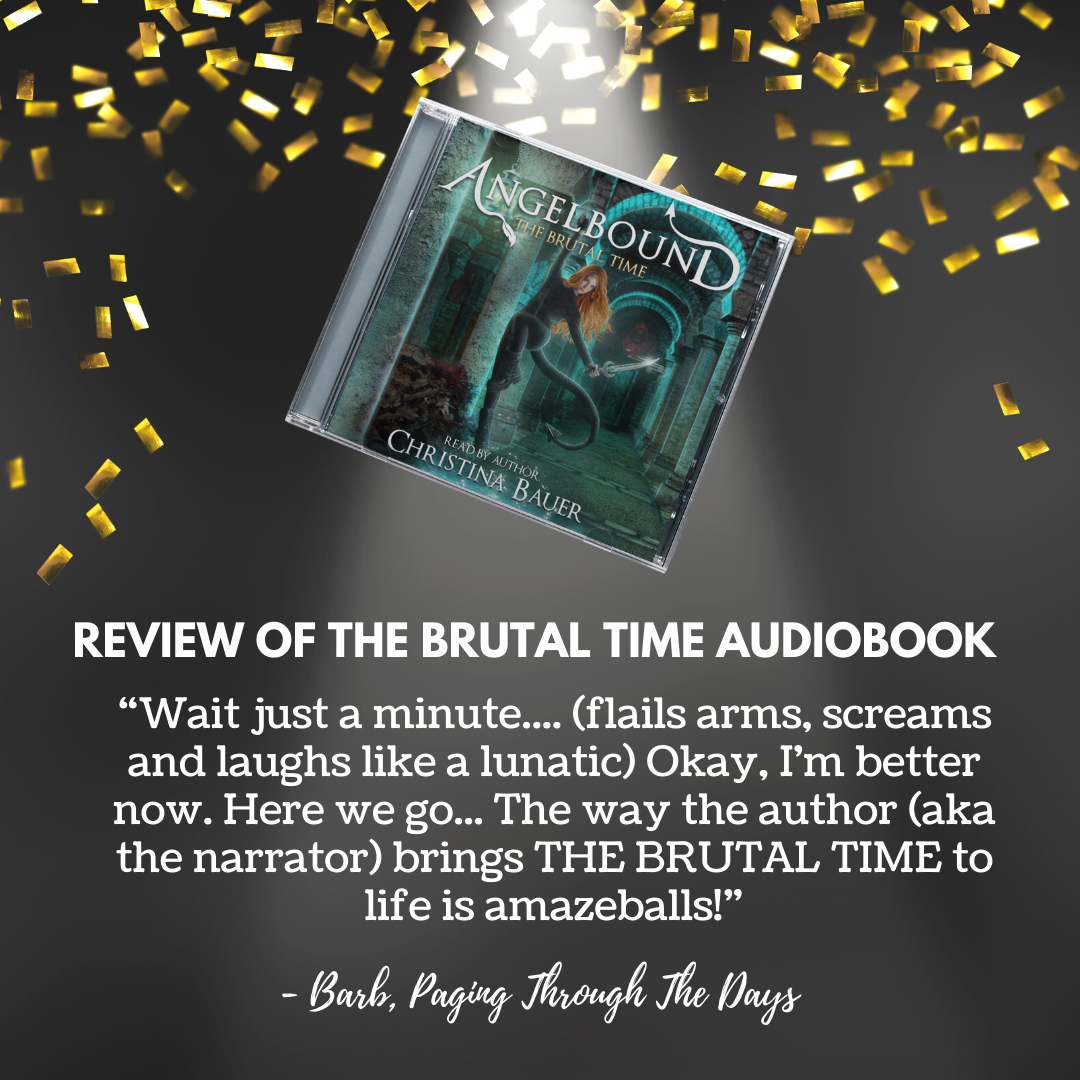 Ta daaaaaa! I am happy to announce my first review for THE BRUTAL TIME audiobook! I used a new production company this time and felt like I was able to cut loose a lot more. Long story short, I wasn't sure if this would be a good thing or a bad thing… and at least for Barb, it looks like it was a good thing!
Huge thanks to Barb and the Paging Through the Days blog for the review! Check out this kick-ass blog today and read on for the review…

First off… Thank you Christina for another AMAZING Read!
Wait just a minute…. (flails arms, screams and laughs like a lunatic)
Okay, I'm better now. Here we go.
Team Myla and Lincoln are freaking unstoppable! There were times when I was like, "oh they've lost their damn minds." Then we graduated to me wanting to throw my phone… then came the love part. Seeing Myla and Lincoln in a happy, wedded bliss is awesome. Add in then that the bottom drops out from under them and all they have at that moment to give them help is Captain Fluffbottom…. (And can I just say, I freaking want one!)
As always they are not only tossed into a barrel of rabid monkeys, aka Lucifer's Laboratory, with no rope to climb out, they are tossed off a cliff, almost set on fire and… Just when they think they have a chance in all get out of making what is prophesied not happen… holy gypsy singers it happens and they meet the disco demon.
I. Am. Dead!
Seriously though, this book had me on cloud nine, then bottoming out with wide eyes as I flipped pages in my kindle (and then I could NOT stop listening to it… The way the author (aka the narrator) brings the characters to life is amazeballs!
Dudes… Myla in the Brutal Time was epic, crazy and can I just freaking say how much I love this character. She does not give up a well earned fight. Time is her biggest battle right now. She's in a place where it's either going to get better or worse… and worse for her could mean her future and the future of her entire family, could be gone. The gut punch this story gives you does ease off and things take a turn (slowly at first) for the better.
In the end things happen the way they should have. Myla is not one to just shake things off, neither is Lincoln. This means, I can not freaking wait for what comes next. With each book in this series the love I have for this series and this author's way of making something so awesome come to life with her words, grows.
#TeamMyla4life #TeamBauer
Check out the purchase links for the entire ANGELBOUND ORIGINS Series HERE!
Find the series about a quasi (part demon and part human) girl who loves kicking butt in Purgatory's Arena on Goodreads