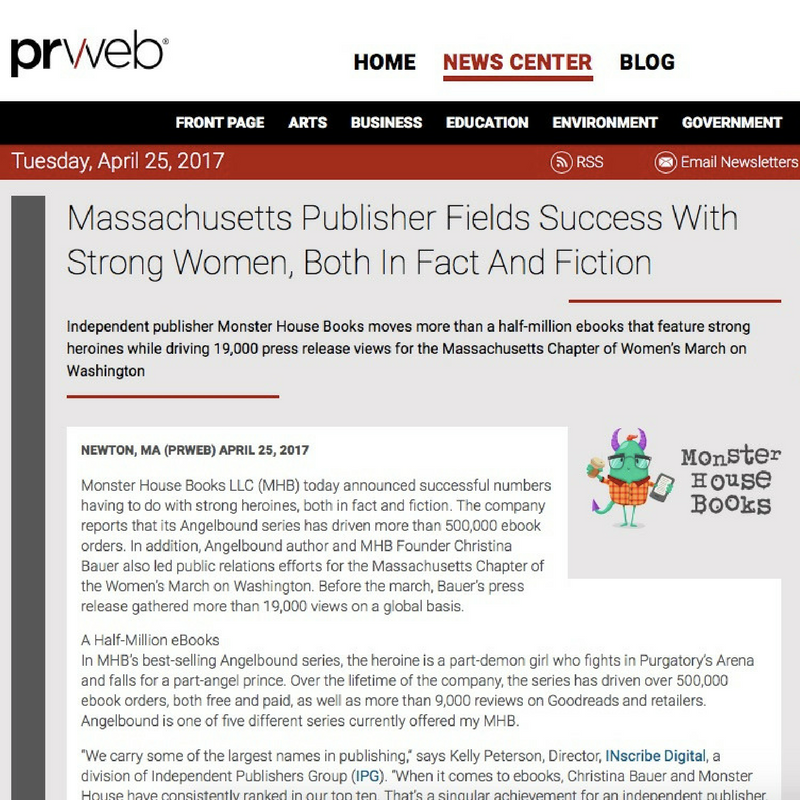 Massachusetts Publisher Fields Success With Kick-Ass Women, Both In Fact And Fiction
Independent publisher moves more than a half-million eBooks that feature strong heroines while driving 19,000 press release views for the Massachusetts Chapter of Women's March on Washington
Newton, MA – April 25, 2017 – Monster House Books LLC (MHB) today announced successful numbers having to do with strong heroines, both in fact and fiction. The company reports that its Angelbound series has driven more than 500,000 ebook orders, both free and paid. In addition, Angelbound author and MHB Founder Christina Bauer also led public relations efforts for the Massachusetts Chapter of the Women's March on Washington. Before the march, Bauer's press release gathered more than 19,000 views on a global basis.
A Half-Million eBooks
In MHB's best selling Angelbound series, the heroine is a part-demon girl who fights in Purgatory's Arena and falls for a part-angel prince. Over the lifetime of the company, the series has driven over 500,000 ebook orders, both free and paid, as well as more than 9,000 reviews on Goodreads and retailers. Angelbound is one of five different series currently offered my MHB.
"We carry some of the largest names in publishing," says Kelly Peterson, Director, INscribe Digital, a division of Independent Publishers Group (IPG). "When it comes to ebooks, Christina Bauer and Monster House have consistently ranked in our top ten. That's a singular achievement for an independent publisher. I believe that the key to their success is a laser-sharp focus on fantasy stories that center on strong female characters."
In terms of positioning, MHB targets the so-called girl geek market. Some relevant statistics for this space include:
"I'm a girl geek and I publish kick-ass fiction for other girl geeks," says Christina Bauer, Founder, Monster House Books. "Women consume a ton of fantasy and sci-fi storytelling with main characters that look nothing like them. Imagine what would happen if high quality content were made available to them which had cool women leading the action? That's the whole idea behind Monster House."
19,000 Views For The Women's March
Bauer has also told the story of the Women's March on Washington by leading Public Relations efforts for the Massachusetts Chapter. Her pre-event press release—the only one sent out on a major wire service before the march—resulted in more than 19,000 global impressions and was redistributed by over 350 different media entities including the Associated Press.
"As PR lead, Christina was a key part of our mission," says Tami Gouveia, Lead Organizer, the Massachusetts Chapter of the Women's March on Washington (WoMaWaMa). "She wrote speeches and other public-facing documents, prepped the team for interviews, and did call-downs to the media. As a result of her efforts, I fielded more than a dozen interviews about the march…everything from what to cook for the trip to where to find the best bus seat. When the big day came, the Massachusetts Chapter funded, organized or tracked more than 10,000 participants to the Women's March on Washington. We are deeply grateful to Christina for her contributions."
Continued Expansion By The Numbers
MHB is building for future growth by investing in a new LGBTQ series as well as expanding into audiobook and high-volume print formats. The following releases are scheduled for 2017:
The first signed author at MHB, Genevieve Iseult Eldredge, will release her inaugural title, Moribund, on September 12, 2017. This young adult LGBTQ series centers on the Circuit Fae, fairies who live in our modern world but leverage technology in order to enhance their magic.
"Monster House shared my passion for writing a kick-ass LGBTQ YA urban fantasy series," says Author and Editor Genevieve Iseult Eldredge (GIE). "With Circuit Fae, we wanted to create a world where the focus was on teenage girls falling in love with each other and having exciting adventures and angsty romance. I've been thrilled with the early response to my series."
Within days of pre-orders going live, Circuit Fae Moribund ranked on the top 100 lists for both Amazon and Kobo for LGBTQ fantasy. The results were based solely on the book's description; the cover had not yet been revealed.
"It's been a pleasure working with GIE, and I look forward to adding more authors to our collaborative," says Bauer. "I hope to have more good news on that front soon!"
For more information on Monster House—or to request a review copy of a current or upcoming releases—please email Arely Zimmermann, Publishing Assistant, Monster House Books. AZimmermann (at) monsterhousebooks.com
About Monster House Books LLC
Monster House Books LLC publishes kick-ass fiction for sci-fi, fantasy, urban fantasy, and paranormal romance readers. Like strong heroines, diverse voices and unique storylines? Welcome home. For more information, visit www.MonsterHouseBooks.com.
About Independent Publishers Group
Established in 1971, IPG was the first organization specifically created for the purpose of marketing titles from independent presses to the book trade. With consistent growth year-over-year, IPG's success has come from supporting and encouraging the growth of its client publishers in the United States and worldwide. Clients include publishers from the United States, United Kingdom, Canada, Ireland, Israel, Spain and other countries. In 2016, IPG purchased INscribe Digital, a leading edge publishing technology company, which is helping to position IPG as a best in class technology solution for publishers large and small.
Contact Information
Christina Bauer
cbauer@monsterhousebooks.com
Monster House Books LLC
# # #