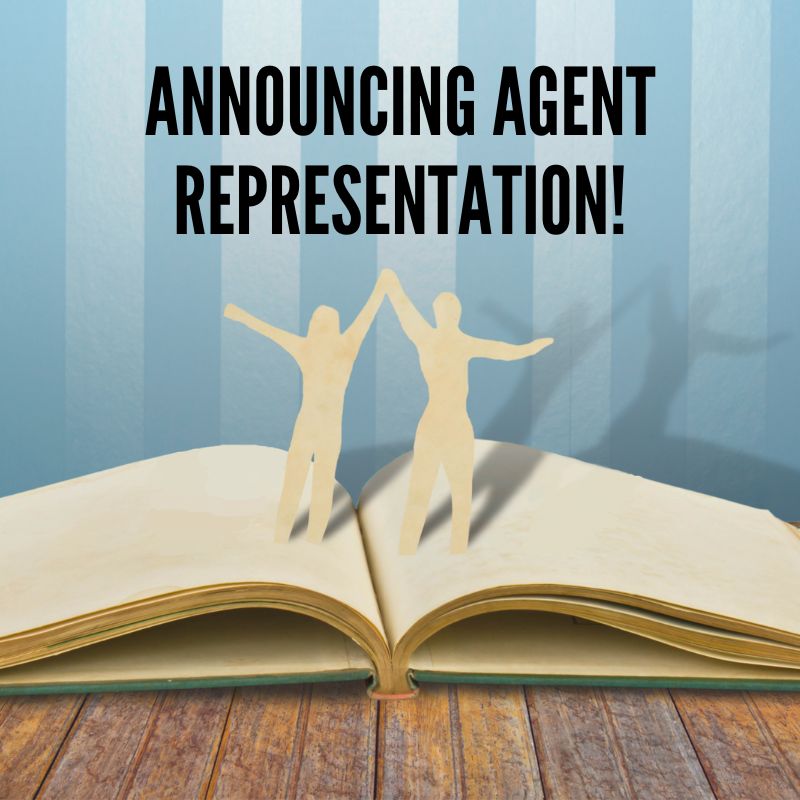 Great news–I'm represented by Jen Newens of Martin Literary Management! I'm thrilled that Jen is pitching my all-new young adult graphic novel to publishers. Here are some questions and answers folks may have about this news…
How did you get an agent?
Short answer: I sent out query emails to about a dozen agents over the summer. Jen replied to my message, we had a phone call, and now we're a team!
Long answer: Years ago, I pitched two books to many agents. Both got a big zero on the traction-o-meter. The first, Beverly Hills Vampire, can be downloaded right now for free by signing up for my newsletter. The second was Angelbound and I eventually decided to publish it independently. Forty-five books later, life has been good until the dreaded advent of Artificial Intelligence. 
Insert music: dun-dun-DUUUUUUN!
Hold on. Why would Artificial Intelligence make you seek an agent again after so many years?
To answer this question, it may help to review the overall book market. In June 2023, Zippier Research reported that eBooks only make up 9% of total Book industry revenue. As an indie author, my sales mostly fall into that 9%. Although the market size is smaller for ebooks, the indie margin is much bigger. As a result, indie authors often make more than traditionally-published ones.
Which brings me to a little topic we authors call… the ZON. According to WordsRated: Amazon's market share in ebook sales reaches between 67% and 83%, depending on whether Kindle Unlimited is included. Before the AI era, hundreds of ebooks would be uploaded to Amazon each day. Honestly, most of those titles would just sit there until the ZON auto-magically ranked and recommended them using something called the Amazon algorithm. Not to tout myself and say, "the Amazon algorithm was my bitch." But yeah, it was totally my bitch.
Then, AI entered the picture.
Now, Amazon gets flooded with thousands of titles each day. All too often, these books are uploaded by smart-n-sneaky non-authors who publish bot-written crap and game the algorithm like a boss. Real novels by actual humans are getting lost. Amazon is trying, but this situation is not getting fixed any time soon. Simply put, AI is new and responding correctly takes time. My loyal readers still find me–thank you, readers!–but it's harder than ever to connect with new folks, which is the lifeblood of any full-time author. Therefore, I decided to expand my catalog into graphic novels because 1) I've been adding images to my books anyway and 2) try copying a graphic novel format, you AI bastards, you.
Why not self-publish your graphic novel?
That was my original plan. Turns out, I can take a graphic novel all the way through mock-up stage before I really need an artist to finish things. Agents provide both connections and feedback in order to help authors like me find the right creative partner. Jen has been a joy to team with. She gets that I'm on the autism spectrum and appreciates the speed and breadth of my work style. Trust me, that is rare.
Do you have a graphic artist for this project?
Hells, yeah! But I'll save that for a future post.
How will this new graphic novel affect your other books?
My December 2023 release of Evil Queens and Goblin Kings is moving out into 2024. Also, the next book in my Xavier series, Archnemesis, will slide out from early to late 2024. Right now, there's no change to my next Myla-Lincoln release, Angry Gods, which is currently set for summer 2024. Launch dates will get finalized after I get the graphic novel out of my head, which should be in the Feb-March 2024 timeframe. For those of you who know my process, Business Me needs to respect when Writer Me wants to do something. Right now, Writer Me is all about finishing this graphic novel.
What's that graphic novel about?
Damn, I am DYING to tell you what Jen is pitching! For now, I can say that it introduces an all-new world. Beyond that, I don't want to over-share until things are farther along because JINXES ARE REAL.
Anything else?
On a final note, thanks for being a loyal reader and supporter. I'm excited to have you join me on this new part of my author journey!